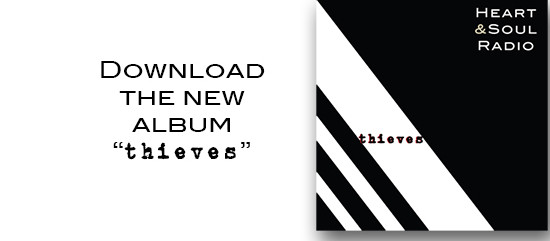 Heart & Soul Radio "thieves" is an indomitable force. Bursting forth with great energy it is infinitely optimistic. Elements of it hark back to the halcyon days of alternative rock movement: of Dashboard Confessional, 30 Seconds to Mars, even Blink 182. Yes their songs are unforgettable. The choruses invite the listener to sing along. They virtually demand listener participation.
Listen – https://soundcloud.com/heart-soul-radio/sets/thieves
"Ain't No Life Like The Low Life" sounds like Weezer circa the Blue Album era. Stripped down to the basics the song burns through its run time. Things closely follow the pop template on "Kochheads". Incredibly catchy the welcoming "Can't Face Home" is a song of cautious optimism set along a bouncy rhythm. Moving into darker territory is "Thieves In The Night (True Scars)". With a dual personality is the endearing sweet "FU Guys, I Love You" neatly embodying the confused take on what it means to have friends and growth with them. Towards the end of the album Heart & Soul Radio moves into increasingly absurdist humor with song titles like "The Walking Dead (Not The Award Winning Series)" and "I Slept With Justin Bieber And All I Got Was This Stupid Song". On the former they go for a slower more atmospheric vibe to the sound. For the latter (also the album closer) they go for a poppy, almost dance sound to end the album off on a high note.
Perfectly crafted from the driving rhythms to the carefully considered lyrics, Heart & Soul Radio shows that alternative rock music lives on and lives strong.
Posted by Beach Sloth