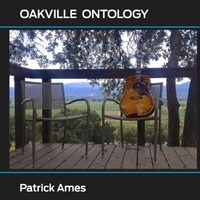 Patrick Ames sings directly from the heart. "Oakville Ontology" possesses a pure spirit. The songs are deeply felt. Ruminating on loss while looking for hope, the songs offer moments of quiet reflection. Arrangements are simple and effective. With a low key approach these are songs that have been worked on many times until they were made absolutely perfect. Pieces are Zen-like in their calm. Repetition is of the utmost importance as the gradual progression of the songs helps their message sink in.
Buy – http://www.cdbaby.com/cd/patrickames2
"Arm Yourself with This Song" opens the album up with a gentle charm. The band orbits around the singer whose earnest lyricism works wonders. On "The Current" Patrick Ames moves into more mournful territory with flourishes of piano and organ punctuating the piece. By far the song's heart and highlight is the energetic "How to Kill a Protest Song". For the song Patrick Ames focuses on the sadness associated with the history of protest. Gradually the piece swirls around to create a beautiful yet restrained piece. "Kickstand" moves towards a thicker deeper sound letting the piece slowly build up. Despair reigns over the moody "Time Opens All Wounds" which delves into the tragedy of the passage of time, how it tends to repeat with little reminders. Oakville Ontology ends with a sense of hope on "On the Yellowstone".
Rhythm is of the utmost importance on "Oakville Ontology". Nicely referencing rock's history while creating something sublime, Patrick Ames succeed wonderfully within the shadows of "Oakville Ontology".
http://www.patrickames.com/oakville_ontology/
Posted by Beach Sloth