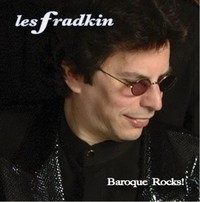 The man of a million sounds and King of the Ztar produced a piece of work that is simply revolutionary, creative genius! The title of the record is 'Baroque Rocks!" and it showcases Fradkin's deep love for classical, Baroque-style music with 12 compositions that are pure as gold. Les pays homage to many of the masterful Baroque composers such as: Antonio Vivaldi, Mason Williams, Johann Sebastian Bach, George Handel and Johann Pachelbel. Heavy emphasis is put on Vivaldi where Les Fradkin is putting his own spin on the pieces without taking away from the greatness, precision & clarity that Antonio Vivaldi originally created. With numbers like: "The Myth of El Cid", "All The King's Men" and "Spring", "Summer", "Autumn" & "Winter" from "The Four Seasons", Vivaldi's music is brought back to life thanks in big part to Les Fradkin's innovative Star Labs Ztar MIDI guitar. With this one-of-a-kind instrument, Les is able to produce a wide array of sounds that may be percussive, synthesized or orchestral. The possibilities of the Ztar are endless and with Les Fradkin's pioneering spirit & true vision, 'Baroque Rocks'! is nothing short of a masterpiece.
The beauty of this album is that Les Fradkin incorporates rock into the mix of classical, Baroque music where two worlds collide to make up one sensational display of audio. Then add in Fradkin's digital enhancements that give the record a more modern feel and you have yourself a winning formula! It's as if Jeff Lynne of ELO, Bach, Vivaldi & company got together in a room one day and came up with the next big thing. Les Fradkin has made something very special & unique that listeners can enjoy and appreciate now and for many years to come.
Les even came up with an original title called "Baroque and Roll" that pays respect to such artists as: Vivaldi, Handel, Jeff Lynne, Roy Wood and Electric Light Orchestra. On this track, Les captures the true essence of the record where the elegantly classy Baroque meets Mr. Rock 'N' Roll. Les Fradkin proves to all of us that he can "Baroque and Roll" all night and play his Ztar every day!
Upon its release in 2009, 'Baroque Rocks' climbed to #13 on the Amazon Classical charts and is still being enjoyed by many today. Thanks in part to the resurgence of "Canon in D" resurfacing recently, which made it to #9 on Japanese charts upon its release, 'Baroque Rocks!' is a proven success that will continue to withstand the test of time. Job well done Mr. Les Fradkin as I feel this album deserves a standing ovation!
Skope out the King of Ztars on YouTube where Les is unleashing the "Canon In D" to audiences worldwide, (http://www.youtube.com/watch?v=mdSLLx1Bw0U). You can also purchase 'Baroque Rocks!' in its entirety on Amazon, iTunes OR CDBaby:
https://itunes.apple.com/us/album/baroque-rocks!/id318427737
http://www.cdbaby.com/cd/lesfradkin20
http://www.amazon.com/gp/product/B002BB0VDM/ref=dm_ws_ap_tlw_alb2
Les Fradkin is reinventing Baroque music with his digitized, rock backdrop meshed with a timeless, classical platform. I guess all there is left to say is BRAVO!
5 Skopes
By Jimmy Rae