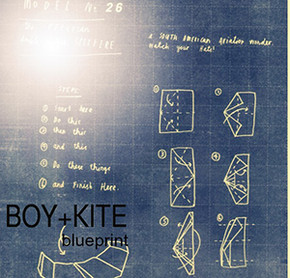 In the age of so-called artists who are cutting corners to create music there are those who still use the traditional methods. That would be the case of a few musicians from the city of Austin who decided to take the next step and become more than they expected. Original members Beth and Darvin first started jamming together in 2010 and became more serious in 2011. They cut their first three tracks in 2011 and finally had the full band in 2012. The idea of Boy + Kite actually was born in a hot tub. This is how Beth Puorro and Darvin Jones actually met and came up with the name and concept.
"Yes it is fact, Beth and I met in a hot tub at a resort and I could fabricate it and make it sound super rock-n-roll but in reality it was just a coincidence, which did indeed lead to the formation of Boy+Kite. And as my grandmother has said many times, the rest is history, so let's leave it at that."
Darvin actually was a solo artist and went under a very interesting moniker of "Postscripts". As far as Darvin the title was more of an afterthought than it being meant to define him-self. But as he explained it should and would be a message at the very end of a letter or an artist or lovers signature, something left behind, overlooked and forgotten much less ever even seen or listened to.
The band has been compared to many artists like The Pixies, Sonic Youth, Dinosaur Junior, The Cure, Plush Gun and others. But as Darvin explained the band is not looking to be a copy-cat act.
"I feel as a songwriter, the most important thing is to do it from the heart and from spontaneity and not over think or try to do something you had an idea about. For me and the band it's very simple, it's about creating music, giving from ourselves, transferring some kind of energy and possible message and delivering from what comes from our hearts, minds and our gut."
Darvin and Beth have an interesting formula for creating their music. First they develop lyrics separately than come together to analyze them. Then they regroup and piece the multiple parts together and look for the key message and meaning. It is truly an organic formula that seems to work its magic every time. That magic can be heard in their recent EP "Blueprint" that dropped on October 21, 2014.
Their debut album "Go Fly" was released in 2011 and was well received. This led to them opening for acts like Ume, An Horse, Quiet Company and The Toadies. Their popularity began to grow after performing in SXSW in 2012 at the Center of the Universe Festival in Toronto, Canada. Following that they squeezed out another hypnotic production in their EP "We Can Go Anywhere We Want". The EP was so well liked it managed to hit the Top 10 Charts on KUT 90.5.
Unfortunately, tragedy struck the band in 2013 when Darvin was in a terrible accident. He suffered a traumatic head injury that sidelined him for great amount of time. Suffering from a broken synapse it was unlikely if he would ever perform again. With a little hope he came back better than before.
"At that time, I mean everyone knew the band was over even though I denied everything the doctors told me and we had a lot of gigs booked. Actually one show was booked the next night after I got discharged and I told the doctors I was going to play a show and they said in so many words "The hell you are, are you crazy? You're not doing anything for months". So, yes the fear was an actuality the band was over and done with."
Since then the band has been moving on and building on a brighter future. The band consisting of Darvin (vocalist / lead guitar), Beth (vocalist / guitarist), Giuseppe Ponti (bassist) and Marc Henry (drums) are looking to keep creating great music and performing every chance they get.
To keep up with them just visit – http://www.boypluskite.com/band_bio/#sthash.UbKRvcMn.dpuf
by Nick Christophers