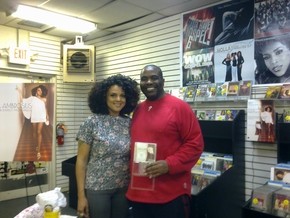 Over the past 30 years this independent record store was ranked several times in the top 10 of favorite city independent music stores. At one time it boosts over 80,000 titles of both vinyl and CD. It was he meeting place of music lovers of almost every genre where fans could go and get autographs from their favorite musicians and artists. When it opened its doors in 1980 there was no Best Buys, FYE, Walmart, Target or the former Tower Records. And yes like most things in this historic city its presence was low key but had a massive and impressive impact amongst not just Philadelphians but major and independent record labels across the nation. Last week when I walked through it felt like I was entering a museum back in time where actual album covers graced the walls and deejays were playing music with shoppers grooving and bopping their heads along the aisles. This store looked like the inside of a major back in the day record label with signed posters and autographed albums and CDs. There was a vibe, a feeling, a presence of unity of all ages, races laughing and talking. The only thing missing where with coffee and juice stations. I just rediscovered the passion that drives my existence and now it's being taken away as the city's vision has changed. Last week it was the Philadelphia International Records Studio and on November 7th Sound of Market will join the closing of a fantastic era. Before it does we got the opportunity to speak with Darryl King of the historic record hub.
Darryl what is or should we say has been your position at the Sound of Market and for how long?
I am the Manager of Sound of Market record store. I have been there for 18 years. Starting out as a floor position and moved up to manager. Been manager for at least 14 years.
Describe some of your most memorable occasions?
One of my favorites was an impromptu in-store with Al Jarreau. He was doing an in-store with Tower records. He was disgusted with the turnout and knowledge of the customers who were there. So he asked someone where the real record store was. It was a Saturday and I remember I was working the floor and who comes walking up the stairs! We had all of his music and he was so pleased with the people who were shopping that day. Eventually a guy comes up the stairs with all of his Al Jarreau records. I ask him how did you know he was here. He says, it's all over the radio! People just kept coming and Al was so happy that he started buying fans their music purchases that they had in their hands. When it was time to close I had to throw (lol) Al out because he didn't want to leave but it was memorable because it wasn't planned… it just happened.
Another special moment was 9/11. That day I had an in-store planned with gospel artist LaShaun Pace. It was so crazy downtown and nobody knew just how serious things were and how bad it could get. But then who comes walking up the stairs was LaShaun. As we talked she said that she came over because she didn't know what to do. She was stuck in a city that wasn't her home. You are in the middle of a danger zone unlike we had never seen and she wanted to at least be around somebody/people made us both think about those things that are most important.
What are some of the favorite artists you've had the opportunity to host at your store?
We have has so many artists over the years, well over a 1000. From some of the biggest like LL Cool J and Mindless Behavior who shut down 11th and Ludlow because the crows were so big. To TD Jakes with so many people even elderly and disabled came out to meet and get a word. I remember great in-stores with Shaquillie O'Neal, Gangstar, Fred Hammond, George Duke, Will Downing, T.I., Eve, etc. I can truly say that whenever an artist has come to the store they have been so great to me and the staff and to the customers. Never had any problems, no egos.
How have you seen the music industry change from an inside physical perspective before going digital?
Yes the industry has changed but most tend to only look at the technological changes One of the biggest differences is that technology made the music industry more processed, more cookie cutter and in the process it took the spirit, heart and passion out of the music and from those who put out the music. For example, in the old days, an artist would get together with songwriters, musicians, producers and someone who oversaw the whole process to ensure that all the individual parts would came together to make the whole. Technology has robbed us of different minds, hearts and spirits pouring into a song and/or project… streamlining the process and ultimately streamlining the sound. Then the record companies began to only look for artists and producers who were self -contained.
Now a producer can get an artists that fits their agenda, do all of the music in a machine, alter the vocal performance with computers, put the whole project together without any outside input and deliver a finished record to a record company. For the company it is just product to put in a system that they didn't have to pay for/ or at least pay all the individual units, which has given the public a product that lacks the heart, spirit and passion which has impacted the over sales of music. For example before if you wanted to do a duet, you would get the musicians together along with the artists and work the song out in the studio. Now they can do a duets or a group song with the individual doing their vocal performance digitally in the city where they are, then send the vocal tracks to the producer and the mix all the parts together to do the song. The two singers have never even met yet we have a duet with them. When you are together in the studio, the singers can play off each other, the musicians can play off the singers and sometimes that special magic can occur. This can't happen when someone is by themselves in Atlanta and the other is alone in Chicago.
Has there been a loss of unity among the music community with everyone trying to do it themselves?
I don't think there is a loss of community but I do believe that the new music industry has made a very distinct separation between the have and the have nots. The high end of music, Beyoncé, Drake, Kanye, Beiber, etc is much colder, distant, whereas the bottom end indie artists is more than ever fighting for your slice of the pie. The major difference is that there was a very big middle class of recording artist that used to be the life blood of the industry. The Artist used to be signed by a label (oftentimes a multi album deal), that company would spend the money to record and promote. That artist rarely made much money, in debt album to album, the saving grace was the music industry machine would work good enough for the artist to get a big enough name so as to make the bulk of their money for touring and performance dates.
Today the artist is usually signed to a different type of deal. You come with a finished project (the record company isn't putting up the money anymore) and then they distribute it. Today's artist is going into debt, or into raising money to record as opposed to generating a pseudo debt with a record company. And now even though you are on a label, the artist has to spend their own money to do most of promotions. So in the end, there really isn't much difference between the indie artist and most of the artists that are signed to major labels. The middle class of artist who are one record labels are in reality indie artists on major labels.
Last week I watched photographers getting group shots of various store employees over the years. How did that feel because it looked like a reunion? Talk to us about that.
You are right last weekend was a reunion. I was determined to pay homage to a business that has lasted over 40 years and to the many people who came up those steps and shared their lives. They say in entertainment that you want to leave them "wanting more" So I want to go out strong. You witnessed some of the many people who have worked at the Sound of Market over the years. Managers, Cashiers, Floor personnel, etc. many who hadn't seen each other in a very long time. It was also a chance to show some love to the primary owners of the business over the years, Rivka & Zion Vatruri who without them, Sound of Market would not have been possible.
Do you feel the loss of historic music platform threads such as even the Black Lilly will hinder the growth of Philly's music scene from a unity perspective?
Yes I truly believe that the loss of outlets like us, Black Lilly, Zanzibar Blue has had a major impact on the Philly music scene. I am getting much remorse from record labels, distributors, artists, and industry vets who are lamenting that we leaving because they now believe that they are losing the Philadelphia market. We were more than just a record store. We were often times the only outlet the music industry had to the Philly market. When the radio station didn't want to play you… go to sound of market, do an in-store or performance, get introduced into the Philly market and then radio will jump on you, like Ledisi, Avery Sunshine, etc. On when the chain stores won't sell your music, sound of market will not only put you on the shelves but as one artists recently told me, "Darryl, you treated ever indie artist like they were major!" That statement brought a tear to my eye. I have tried to do whatever it took to make the artists' dreams come true!
Philly does now need to rally to establish that we can still be a player in the business of music.
Lastly what's next for you?
What's next for me… that's a great question. My overall answer is… I am going to go where the Lord sends me. My analogy is that everyone, eventually has to go to the front of the class and give their presentation. When you are in a class, there comes that time when the teacher calls you to the front and share what you got. I look at this time as God is the teacher, he has equipped me with many gifts and talents and it is time for my presentation. I have helped many people to work their dreams and know it is my time.
My craft is in filmmaking. I used to direct music videos for the recording artists. I have written film scripts so that is an avenue that I want to re- explore and I have a book that I want to finish, but then comes a time when we have to decide what we want to leave into this Earth to benefit mankind. Our gifts and talents aren't meant for our consumption but to bless the people and look forward to seeing what I am made of and allowing the people to truly see what is burning inside.
Well on a personal note I can honestly say that Daryl King did do his best to make Artists dreams become a reality and I had the pleasure of speaking with him firsthand pertaining to one of my clients. We will miss you. November 7th, 2014 marks a sad day in Philadelphia's music history.
By LA Virgil-Maldonado, MBA – lavirgil2010@gmail.com