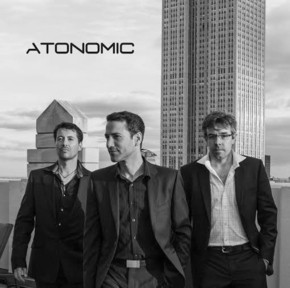 Hello to all out there music lovers all over the globe. We are back at it today and feeling damn good about it too. So in music news, Taylor Swift has removed all her songs from the music-streaming service, including current single "Shake It Off." I wonder if this is due to her new album or that Spotify does not pay enough royalties. In other Spotify news, one in five (19%) tracks listened to on Spotify around the world in 2014 have been recorded by UK artists, including Coldplay, One Direction, Florence + the Machine, Arctic Monkeys, Royal Blood, Lily Allen, and Mumford & Sons. There is a new company that I think will interest our readers. Founded by industry veterans Ted Drozdowski and Laurie Hoffma, the Nashville-based company provides direct services, sourcing and expertise to assist musicians and smaller arts-driven companies and organizations in meeting their creative and practical goals – http://www.locomotiveartistservices.com. Now lets get to my guests this week who are an electropop trio from NYC whose music just makes you want to dance. George, Chris, and Andy are Atonomic and they know how to make music that grabs you as heard in their single "1000 Days of Mystery" and new video for "Are You Up For It." Join us this week as the guys speak on coming together as a group, what Atonomic means, balancing music & life, and so much more!
Stoli: Where are we talking from today and are you excited that Halloween is a few weeks away?
We're in NY City right now. All three of us live here full time, and yes, we're excited for Halloween. A very close friend of ours was born on Halloween, and every year there is a big birthday costume bash that we all go to. It's a great time. I don't know what I'm going to be yet for Halloween, but I've still got some time to figure it out.
Stoli: Ebola is now in the USA. Are you freaking out and how much blame do you put on our incompetent government?
Whoa! This interview just got real heavy real quick. This is a tough one, because there are so many factors that go into explaining and dealing with this situation. So the short answer would be no, we're not freaking out, and the long answer would involve a lengthy discussion about geo-politics on a worldwide scale, national healthcare policy, and all the other factors that contribute to the situation, most of which hinge on human error. We understand how people can be scared, though, and our hearts go out to all the people who have had to deal with the virus. Hopefully this outbreak will be contained and eliminated as soon as possible.
Stoli: How did you guys come together and how did you know there was musical chemistry?
The three of us have been very close friends for many years. We've known each other since college, and now that we all live in the same city, we get to spend a lot of time hanging out. And after way too many nights of partying together and then breaking out the guitars and singing until 4 in the morning, we figured we should take some of that energy and put it towards something creative. It just kind of happened organically that we all thought it would be a good idea to write some music together. There is always the consideration, though, that close friends may not be able to collaborate together without having the working relationship get in the way of the friendship, but it's actually been fantastic. We're all laid back and relaxed in the way we treat each other, and we're very good at keeping things fun and exciting. Hopefully that comes across in our music, because that's something we'd love to share with our fans.
Stoli: The word atonomic means involuntary or unconscious. How did that come to be the name of the band?
Actually, you're thinking of the word "autonomic", with a "u". Our name is "Atonomic" (no "u"), and it's a word that we created. In our minds, it's a combination of "atomic" and "anatomy", and for us, the meaning has to do with the basic building blocks of life and creativity. When you get down to it, all artistic forms of expression really come from the same place, and they all speak to a very human impulse and desire to connect to each other, and to the rest of the world, through creating something that is an expression of ourselves. So I guess the basic definition could be "the essence of creativity", which is something that exists in everyone.
Stoli: I am loving your single "1000 Days of Mystery." Explain how you guys come up with the instrumentals and the lyrics as well?
All three of us contribute to the songwriting process, and our general process is very democratic. We all come up with ideas on our own, whether it's a chord progression, or a catchy hook, or a melody that flows really well, and then we take it as far as we want, or can, on our own before bringing it to the rest of the group. Then when we meet, we pool everything and decide which ideas we want to follow and develop into something more. 1000 Days of Mystery is George's baby, and Andy and I then gave our input on how to help shape it. It's really a fantastic collaborative process and getting together to create music is always a fun and productive time. And as for the lyrics, it's kind of the same process, where one of us will come up with the basic framework and then the other guys will try to make improvements. We're really good at bouncing ideas off of each other and inspiring each other.
"Are You Up For It"
http://www.youtube.com/watch?v=dzlb1DLx2uI
Stoli: Where do you guys record and create music and what software do you use?
Even though two of our band members live in Brooklyn, our music studio is in Manhattan. That's where we have all of our equipment and it's where we meet to write, play, and create our music. We generally start with a beat created with a Maschine and then use various synths (Massive, Reactor) to sculpt the soundscape, occasionally adding some live instruments (guitar, keys). We generally premix in Logic and then for vocals and mixing, we go to a recording studio in Brooklyn called Swan7 – Matt Stein runs it and has been great to work with. He really knows his stuff.
Stoli: The songwriting is really nice. Is that based on a special someone and can you elaborate?
We definitely pull our inspiration from personal experiences, even if it's just for the kernel of an idea or a starting point from which to expand and grow. Sometimes, it's about a special someone, and sometimes it's about pooling the special things from different experiences to create an amalgam. I think all three of us can relate to the words that we've written for this song, but for me (and I'm not entirely sure about Andy and George), I think of this song as a modern day Romeo and Juliet story. The next time you listen to it, think about it in those terms and then let me know if you agree.
Stoli: Being that you are based in NYC have you had the chance to play live and where would you love to perform?
We're very new and we've only been writing music together for a short while, so we've been waiting to play out until we have a larger song base. We also love the notion of doing things digitally and really getting into this whole modern age of how music can be created and experienced on a global level, so we don't feel any pressure to have to go out and perform live right now. That said, both George and Andy have been in bands before and have played all over NY City, so they've played a lot of live shows in the past and are fantastic musicians. All three of us have a strong background in singing, too, so we've all been in front of big crowds in the past. And as for future live performances? Something like and outdoor show in front of the Sidney Opera House in Australia would be cool.
Stoli: Do you guys have jobs/school/family and how much time per week is devoted to the group?
We've all got other commitments, of course, but our music time is sacred. Andy and George are teachers and Chris is a painter, but we're also musicians. And in terms of creating music, we're always coming up with things on our own, but the three of us meet at least twice a week where we focus on everything Atonomic. Other life commitments get in the way of being able to meet more, but to be honest, being limited to this amount of time makes it more precious and generally more productive.
Stoli: I Like you guys on Facebook and I read a video is in the works. What song are you doing and do you have an idea for the theme?
Thanks for liking us on Facebook, Stoli. We really appreciate it. And yes, a new video is in the works. We recently wrapped filming and we're now we're almost done with the editing stage. It's for a new song called "Are You Up For It" which is more of a pop song than "1000 Days of Mystery" (which has more of a dance vibe) but the new song will definitely get you moving, too. It's a performance video, and the concept has very much to do with the color scheme we chose – rich, warm colors juxtaposed with the high intensity music. It looks awesome. The theme of the song has to do with taking chances, rolling the dice in life, throwing your cards on the table – nothing ventured, nothing gained sort of thing – but we don't know yet how much of the gambling footage we're going to use. Sitting at a table playing cards is less kinetic than when we're on stage together, so we'll see what happens in the editing room
Stoli: When you are not doing music what other passions do you have and are you all friends outside the band?
As we mentioned before, the three of us have been friends for a long time and yes, we spend a lot of time together outside of our time as a band. And maybe you could tell from the previous answer when I talked about rich, warm colors being a part of the video, but I am also a fine artist (painting and sculpture), so when I'm not doing music, I spend a lot of time in my painting studio. George and Andy are busy trying to shape and sculpt NYC's youth.
Stoli: What is coming up for Atonomic and where you @ online?
Well, we're still dealing with the awesome repercussions of having been featured on a radio show based in Los Angeles. It's actually the world's #1 radio dance countdown show and they broadcast our song to over 12 million people in over 80 countries around the planet, so we've had a lot of work to do with all the messages we've gotten and making contact with all our new fans. It's not really work, though, because this is part of why we love doing what we do – being able to connect with people from around the world who respond to our music. We're also still writing and producing new songs, and the next one that we'll release is the one called "Are You Up For It" (mentioned above). The video will be up on youtube and we'll be sure to let you know when that happens. Other than that, we're just going to keep creating new music and have a great time doing it – it's an amazing feeling and we're super excited about everything that's happening. And if you want to find us online, the best places to reach us are Facebook, Twitter, Bandcamp, and Soundcloud. Thanks so much for the interview, Stoli, and thanks to everyone for reading and tuning in.
https://www.facebook.com/atonomicmusic
https://twitter.com/atonomic
http://atonomic.bandcamp.com/releases
https://soundcloud.com/atonomic/1000-days-of-mystery