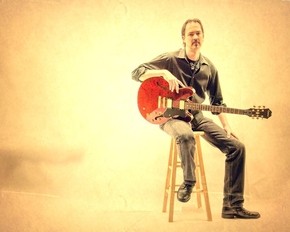 Hello to all and Happy Halloween. What are you planning on being tomorrow night, I am the infamous green goblin. I decided to switch it up and publish on Thursday this week. Before we get to Jason Wells I read in the Wall Street Journal that music sales at Apple's iTunes Store have fallen 13% to 14% world-wide since the start of the year. Many industry folks see this as trouble but to me it's all about options for music lovers. I look to myself as a good example as I stream music on Youtube/Pandora and buy digital downloads via Amazon MP3. I have always seen crowd-funding and touring a perfect fit for the indie musician. With the launch of a new design for the platform stagelink.com in September 2014 the Berlin based company claims to be "Your fan-powered online promoter" for all kinds of artists who want to engage their fans and enable them to promote and finance upcoming tours. I applaud the people ar Stagelink.com for making this vision a reality. Now lets get to my amazing & inspiring guest today, Jason wells. Jason Wells walked away from the security of an hourly job to pursue a music career in 2008 and has never looked back. This man chose his passion over what was the safe route and its working. Jason is celebrating the release of his new album, "The Modern Vintage Movement" so I had to have him on. Join us as Jason Wells speaks on pursuing music full time, 3 album releases in under 4 years, the 'The Modern Vintage Movement', and so much more!
Stoli: Where are we talking from today and how is October going for you so far?
I'm from IN, but I'm in Lincoln NE today. October has been busy, I've been on the road since Oct 4th..A few more dates and I'll be home for a while.
Stoli: I am blown away by your BIO. I admire how you just abandoned the 9-5 to pursue your passion. What was it that lead you down that road and have you looked back?
When I got laid off in 2008 and couldn't find a job even if I wanted to…although I didn't really want to…I started playing music and making money, growing my fan base and things took off. It was hard but I never felt more a live! I was just driven. I caved into the social norm to have a regular job and went back to work after a year and a half. Then my dad passed of cancer, and it was clear at that point what I needed to do…I wasn't freaking out like some may have thought, It was just clear that we only have one life to live and I need to get back to playing music. Since that point I haven't looked back one time, I don't regret it one bit. It has been the hardest thing, but it was the best thing I have ever done.
Stoli: What advice can you give to so many miserable folks who just live day by day and never pursue their passion?
I am obviously all about pursuing what you love to do…I think it is very important to remember that you have to be realistic to a degree. It's not really living the dream, we live in a real world that doesn't stop or slow down…You have to have passion about something, that passion has to drive you to find and sustain a way to make money…
Stoli: At what age did you start playing & writing music and did your friends/family support you?
I really got serious about playing guitar when I was about 12…My dad was supportive, but my step-mom did not want me to play…I used to play at all the hang out spots with my friends and parties.
I didn't really start writing songs until a lot later in life…I didn't really sing much until I was about 23 or so. I really learned to play and sing, playing at nursing homes with my dad.
Stoli: Who are 2 artists that you grew up on that influence your sound & inspired you?
The 2 artist that influenced me the most growing up for sure are Jimi Hendrix and Ted Nugent. I loved Jimi's funky groovy guitar playing, and Nugent's rocking guitar riffs.
"Friend Or Foe" – http://youtu.be/WilqGCbmS4Y
Stoli: Your debut album came out in 2010 and you are now onto album 3 with 'The Modern Vintage Movement.' How did you amass such a catalog of music in such short time?
Yes, that is correct I'm on #3. I'm writing for my 4th now. I really don't know how I got that many songs…other than a lot of them just came from situations or circumstances in my life that I found it very easy to write about. I really have a hard time getting things out sometimes, but I think I'm getting better at finding that side of me…
Stoli: What can readers of this column expect from 'The Modern Vintage Movement' and what are you most proud of this album?
There is a pretty wide range of sounds on this album, some really rocking tunes, some acoustic, some folksy or country sounding songs. I hope people find that this is just real music.
I'm proud of this album because every song I really love and enjoy playing, and enjoy each one for different reasons.
Stoli: I love your unique sound just like in your song "Friend Or Foe." How long did it take before you knew that you had found your sound?
Well, the way I learned which was all on my own from guitar magazine tabs, I have had my style for many years…I have always been the kind to make my own guitar riffs, try new things, but I have had my style for a while. I think I struggled a little bit trying to make music that wasn't me, but just couldn't..lol
Stoli: What kind of mood and setting must you have to write & record music?
I don't really have to have any particular setting…I think my mood influences what I play and what I write about at the time. I written songs driving down the road..sitting somewhere in public, in my studio…
Stoli: Call me a conspiracy theory guy but did the US government not make it easy for Ebola to enter the US compared to other countries?
Yeah, doesn't seem like we have done much to stop it…I mean it's only a terrible virus that can kill millions…
Stoli: What is coming up for Jason Wells and where you @ online?
A lot of shows, touring, working on CD #4 this winter, and more shows..lol. You can find me at www.jasonwellsmusic.com and that will link to all the other social sites.