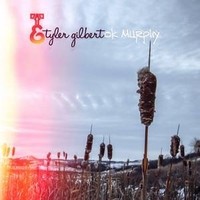 Tyler Gilbert's "Okay Murphy" is a well-balanced blend of electric and acoustic rock. His distinctive voice and vision help bring together a diverse range of approaches, from the celebratory to the tragic. "Okay Murphy" takes its many elements to create a beautiful, oftentimes tragic sound.
Tyler Gilbert " Ok, Murphy" EP
https://soundcloud.com/tyler-4-2
Kicking off with the passionate "Water to the King" the album starts off on a high note. The drums are prominently displayed helping to drive the song forward. "Be Someone" slows things down a bit moving into quieter country territory as Tyler Gilbert's lyrics tell a story of ambition. On "The Way The World Works" strips away the electric adornment for a rawer, intimate sound. "For Dreamin'" continues this fine sound, with the electric guitar playing a small yet prominent role. Optimism permeates the joyful "Mornin' Sunlight". Great energy defines the tender "Beautiful Hypocrisies". "Lady of the Mountaintop" with its crisp playing is reminiscent of John Fahey's emotive yet highly skilled guitar work. Things move towards the orchestral on the elegant "The Letter" which loses the guitars for sweeping strings. By far the highlight of the piece is the patient pace of "What It Takes". With mournful lyrical work and expressive rhythm the song is darkly beautiful.
With the finale "On & On" Tyler Gilbert neatly brings together all the different styles: from the classical to the folk to the rock, it comes together into a coherent memorable send off. Tyler Gilbert shows off his considerable skill at creating compelling narratives on "Okay Murphy".
Posted by Beach Sloth