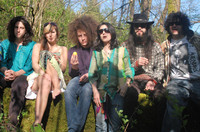 Random Dander sound truly completely out of their minds on the "Second Cuming EP" and this is a very good thing indeed. Throughout the collection they appear to be possessed by a boundless energy. Hence the songs have a strong physical quality to them as every song appears to be dripping with sweat. Incredibly catchy the songs are full of fascinating sonic details as they take advantage of their large size and rather large array of instruments at their disposal. By using every member to their full potential they display an enjoyable interplay as they all appear to listen to each other. While they are such busy pieces they never lose focus on the melodic heart of the songs. Jackie Lee's voice additionally helps give the pieces a large dollop of their humor through her lyricism.
Random Dander " Second Cuming" EP
https://soundcloud.com/randomdander
"Smooth Moves" shows off their considerable chops as they veer from laid-back casual grooves that introduce the piece to the downright chaos that grows to define the piece. Drumming accurately captures the prevailing anything goes spirit that defines the song's final moments. On "Manna Stance" they employ a taut rhythm that shows off the band's ability to stop and start on a dime. Easily the best track on the collection "How You Gonna" explores every facet of their sound. The song fluctuates between tight funk-inspired rhythms to a looser, louder structure.
"Second Cuming EP" shows off Random Dander's ability to effortlessly merge genres as diverse as hard rock, funk, and psychedelic into a coherent colorful whole.
https://www.facebook.com/randomdander
Posted by Beach Sloth