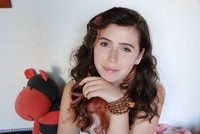 "Broke My Heart" is a lush piece of pop. Alice Sungurov's voice serves as the focal point for the entire track. With a relaxed easy groove the song reflects upon the oftentimes confusing aspects of being in a relationship and the heartbreak that comes with the end of a relationship. No breakup is easy. Here Alice Sungurov explores the feelings that immediately come up following a breakup. Even as the song explores the hurt that follows a breakup it offers up a sense of hope.
Stream the song here:
https://soundcloud.com/jazzyalice/broke-my-heart
The song opens up with an easy shimmering groove. Drums are kept relatively loose as is the bass. Rhythmically the song takes on a relaxed disposition. As the lyrics move the piece forward the song becomes more wistful in tone. Eventually the anger of the breakup builds up into a cathartic release. The tempo increases as the song moves into busier territory. Alice Sungurov's keen storytelling abilities let the song feel rather grounded. Veering between sad mournful reflection and outright defiance at being broken up with, the piece neatly embodies what a breakup entails. On one hand the breakup is a hurtful sad quiet time. For a breakup though there is always the reverse of that sadness, the desire to move on from the hurt, that ability to better oneself with a partner who is more deserving.
For the finale moments of the song the piece moves into a frenzied rush for the finale. By the end of the song it is clear that the song is a way of navigating past hurt to find future happiness.
http://www.alicesungurov.com/
https://www.facebook.com/AliceSungurov
https://twitter.com/alicesungurov10
Posted by Beach Sloth