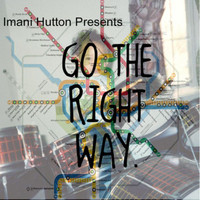 Imani Hutton's "Go The Right Way" is a soulful album. The songs are lush with a wide spectrum of smooth sounds. As the album progresses it becomes gradually more ambitious. With the first half of the album the songs retain a pop structure format. Later on the pieces become much more ambitious as proven by the album's centerpiece "Out to You/Come Thou". Possessing a great deal of detail Imani Hutton's arrangements are tasteful utilizing elements of R&B, soul, and even a few elements of lounge.
Listen – http://imanihutton.bandcamp.com
"Find the Way" narrates the plight of others and the casual indifference they met. The song focuses on the good that an observer can do even in spite of their own limited means. On "Follow Me" Imani Hutton radiates with positive energy. By far one of the album's main highlights is the infectious "Can't Help Myself". With a playful guitar and incredibly memorable the song is full of energy. For "In Your Arms" Imani Hutton moves towards the more extended pieces on the collection. The slow tempo helps improve the emotional resonance of the song alongside the emotive vocals. Electronic elements reminiscent of The Postal Service are used to great effect on "Circuit Dialog/Dance With You". Ending the album off on the perfect note is the personal "Out to You/Come Thou" which builds up to a satisfying conclusion.
Catchy and full of vibrant color "Go The Right Way" is an immaculately produced elegant album.
http://manimademusic.wordpress.com/
Posted by Beach Sloth