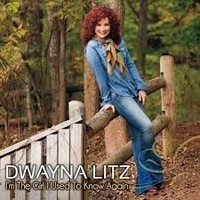 New York based singer/songwriter Dwayna Litz just released her latest work entitled "I;m the Girl I Used to Know Again". This latest CD from Dwayna Litz "I'm the Girl I Used to Know Again" is refreshing. It has original songs reminiscent of the country/rock/bluegrass LA-Sound-of-the-70s with songs written similar to the style of early Linda Ronstadt but with a contemporary surprise like Norah Jones. Recorded in the top studios of NYC and Nashville, Dwayna has a sound all her own. As I delved into this 10 track release by Litz I quickly discovered she yields a uniquely powerful vocal front that upholds the highest standards of the genera.
Having recorded more I think 9 albums to her credit now, Litz's far-reaching discography also includes performances and recordings with some impressive names. On "I'm the Girl I Used to Know Again" you can expect a R&B and bluegrass combination. Dwayna co-wrote with Sam Lorber ("Cry like a Baby"), Hubert Eaves III ("Yes I Would") and Jeff Franzel ("All Because Of You") on this CD. Tony Guerrero is also featured playing trumpet on one of the songs. It ends with a funky, bluegrass rendition of "This Train is Bound for Glory" recorded with Scott Coney, Randy Kohrs and Tim Crouch in Nashville. Many tracks on "I'm the Girl I Used to Know Again" are emotional and deeply personal statement but with just the right amount of wisdom to keep a balance. The combination of Litz's voice and her amazing arsenal of players present a strong musical format that even borders on Americana-Blues-Jazz. In this aspect Litz is truly a musical force within this style of music without going aggressively over the top about it all.
Far from being background music the listener is gently invited to truly listen and feel the life-blood pulsating from behind the microphone. The songs provide the a-typical "high end" pop persuasion, magnificent Piano/Guitar via a process "live feel" production value. Some moments hit the heart "Place in the Road" and "I Forgive You." Many tracks to me are emotionally multi-layered "Yes I Would" and "All Because of You" literally open a window unto Litz's personality and shows a deep personal side. Other tracks like "Cry Like a Baby" and amazing "Takin' it One Day at a Time" offer more deep-seeded honest grooves. "All I Meant to Say" reveals even more from an artist that is equal parts intriguing as it is clairvoyant. In the end ""I'm the Girl I Used to Know Again" adds a colorful tapestry to a rich style of music that need not be forgotten. It also offers a time to reflect, dance and let loose a bit. Track 10 "This Train is Bound for Glory" is a barnburner.
Litz and her music remind me of The Little Willies, Diana Krall, Melody Gardot, Latie Melua and Duffy.
Top Track: "Cry Like a Baby"
Criticism: CD is a bit repetitive. We need a few more track like "This Train is Bound for Glory" on it.
It seems in the end not a song is to be taken too lightly on "I'm the Girl I Used to Know Again" because it's all about passion. Perhaps maintaining a healthy sense of optimism about oneself not only in the here and now, but what lies ahead tomorrow. Isn't that what life is all about, what passion is all about. Dwayna Litzs' latest release truly extols all that is special about life, straight from the heart of a beautiful person, sung from the voice of an honest, genuine artist, behind the backdrop of some beautiful music. Need I say more?
Purchase Link: https://itunes.apple.com/us/album/im-the-girl-i-used-to-know-again/id909464538
Official URL: http://www.dwaynalitz.com/
Rating: 4/5 Stars
Chris Addington