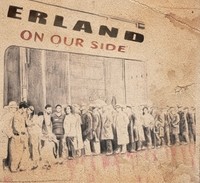 ERLAND takes the best of folk and makes it better. On Our Side is an easy-to-love warm collection. Respectful of the past while trying something new the songs are positively lush. At times reminiscent of the meticulous work of Fleet Foxes the songs shine. Lyrically the songs focus on relationships, how difficult they can sometimes be, and ultimately the rewarding experience that comes from growing with a person.
"My Love" – http://www.youtube.com/watch?v=lJR5aRg4ou4
Buy link: https://itunes.apple.com/us/album/on-our-side/id605476763
Beginning with the atmospheric "Fall to Fly" the song starts the album off on a high note. Feeling remarkably similar to the gentle nature of Nashville's Lambchop the song's strength lies in the ability to ever so slowly. "For Ain't Worth the Fight" ERLAND taps into the casual cool of The Sea and Cake with a slightly jazz vibe. By far the highlight of the collection is the deceptively simple "Long Way From Home". With an airy approach the piece gives all the instruments a chance to shine from the persistent simple rhythm to the expressive harmonica. "Darlin' Dear" is delivered with the right combination of earnestness and intimacy. The acoustic guitar serves as the backbone of the piece as the rest of the song gradually structures itself around its expressive simple power. Ending the collection is the quiet title track "On Our Side". Nimble guitar work defines the piece as it delivers a message of cautious optimism.
With a pristine spotless sound ERLAND's On Our Side is full of quiet understated beauty.
Posted by Beach Sloth