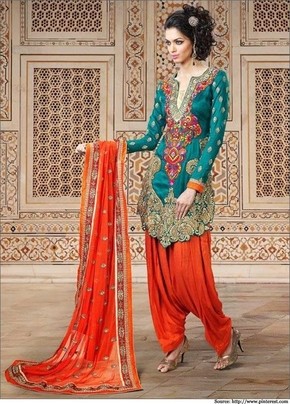 The neckline of a salwar or Punjabi suit can make or break the outfit. There are different necklines that one can create for a salwar suit and it all depends on certain important factors like body type, fabric, design, etc. So having the right neckline for your salwar suit is as important as how to buy best punjabi patka. While most salwar kameezes have the usual round neck and square neck patterns, there are many more exciting and innovative necklines that you can use for your salwar kameez.
Here are a few of them up for trial!
1.The Mandarin Collar
This is a neckline that has newly come into fashion for a few years now. It is rather adored by younger women looking to spice up their outfits a little. Mandarin collars come of two types: either with or without an opening. The collar could be the colour of the kameez or a contrasting colour. The mandarin collar matches well with either a V-neck or a U-neck and is ideal for the hot Indian summer.
2.Asymmetric collar
This is the new rage now among the younger ones. Basically this involves designing the neckline in any way that you want. It doesn't have to have a particular structure or symmetry to it. The asymmetrical collar goes well with the lighter fabrics including silk, lace, tissue, net, georgette and so on.
3.The Illusion neckline
Another recent addition to the salwar kameez, here a lighter material like net or something transparent is added to the neckline of the dress. It is created from fabrics like silk, synthetics or even georgette. If you are off to a party, then you could o in for an off-shoulder neckline on a cotton salwar with some heavy-duty embroidery. This pattern will do wonders for your collar bone. Try the jewelled neckline for cotton fabrics and try silk for embroidered fabrics. This will add a royal touch to your Punjabi ensemble.
4.Embellished Halter
This is a popular neckline for salwar suits and it can suit all women. The neckline could either be close or bare. However, it bares your arms and shoulders. This is something that will definitely help you stand out in a crowd. You can also combine the halter neckline on your salwar kameez with spaghetti straps making it a halter strap neckline. Try this on a suit which is heavily sequinned and be the stunner at any party you attend.
5.The Boat Neckline
This is a very popular neckline for salwar suits. There are different types of boat necks which include deep boat neckline or even a high boat neckline. The former gives you a sexy look while the latter makes you classy and turns heads in a crowd. Women with all body types can try out the boat neckline. Women who have narrow shoulders usually look very stunning with this neckline which accentuates their shoulders and makes them look broader.
6.Strapped Halter Necks
If you generally like wearing dresses with thin straps then let your salwar kameez have thin spaghetti straps. This look is perfect for those women who have broad shoulders and bares their collarbones to perfection. With broad shoulders however, one must never opt for wide straps. The wider the straps the broader your shoulders will appear. Women with narrow shoulders could opt for halter necklines with broad straps.
For a bit of adventure you can even embellish the straps or one of them with some embellishments or use materials like net to make them.
About the author: Daniel Martin is an ethnic fashion designer who is fascinated with Indian, especially Punjabi fashion. He is interested in turbans and where to buy best punjabi patka.