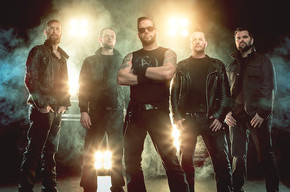 Nuclear Blast is proud to announce the signing of Belgium's finest – anthemic grooving rock/metal outfit DIABLO BLVD!
Formed in 2005 with all members hailing from the city of Antwerp, Belgium, the band is named after a CORROSION OF CONFORMITY song and lead by notorious stand-up comedian and singer Alex Agnew. With current and ex-members of bands like A BRAND, BORN FROM PAIN and MEURIS, this eclectic five-piece quickly started to turn heads and playing shows to appreciative crowds all over Belgium and the Netherlands.
Building on groovy riffs, catchy choruses and a charismatic stage presence, DIABLO BLVD offers what made their heroes great within a wide range of influences from the heavy genre (like DANZIG, THE CULT, GUNS 'N' ROSES, BLACK LABEL SOCIETY and TYPE O NEGATIVE), classic rock and even blues.