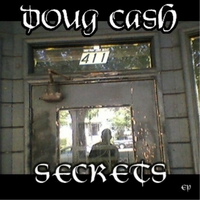 Doug Cash is a jack of all trades, singer/songwriter, musician and producer out of Sacramento, CA. His current EP, Secrets is a wide variety of surprises in a short span of time. He has clever ditties that pleases the ears and wakes up your senses.
Cash has smooth, soothing vocals that lay out his message with precise articulation. The lyrics of each song are well thought out and universally felt right to the core. He puts you in the moment, leaving no trace of concern, other than hearing the next song. The tune, Blue River has the calming effect you expect to hear; rolling out of the speakers like the ocean finding the shore.
Buy: http://www.cdbaby.com/cd/dougcash117
My personal favorite is, Not Waiting due to the cool harmonica introduction. I'm a sucker for the harmonica, so he had me at the first note. Then he kicks in a cool bluesy guitar with a plucking base note that slaps you in the face. Hello, you got my attention! This is the coolest display of simplicity at its finest. He has something to say on this one and he makes sure you hear the message by not drowning it out with over use of instrumentation. But yet he uses these cool little nuances that make it feel more complex than what is initially expected.
"For All The Times"
http://www.youtube.com/watch?v=XmGkysjTrNM
Doug Cash has a great ear for coolness. He is one of those guys that does not have to try to be cool, the "cool" simply lives in his musical heart. This EP is a soulful journey into the psyche of a person who eats, sleeps and lives music. The EP, Secrets is revealing the truth about an extremely talented individual, listen and enjoy.
I rate this 5 out 5
Rebecca Hosking – www.rebeccahosking.com – hoskingrebecca@gmail.com