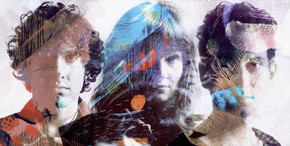 Don't be fooled by the name. With their undeniably infectious sound, Little Daylight is quickly becoming a big, bright spot on today's musical landscape.
Formed in the spring of 2012 by Nikki Taylor, Matt Lewkowicz and Eric Zeiler, Little Daylight has released the "friends edit" of "My Life," a high-energy track from their latest album, Hello Memory. The "friends edit" features vocals from members of Young Rising Sons and The Griswolds, who have also been gaining considerable momentum with their unique brand of party-pop.
Listen to "My Life" featuring The Griswolds and Young Rising Sons right now on All Things Go. The video is set to premiere on October 9, via Teen Vogue.