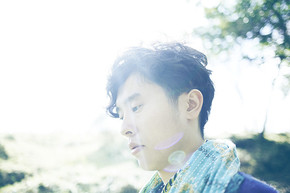 Japanese solo artist Olde Worlde (http://oldeworldemap.com) has just released the first lyric video for his debut North American release The Blue Musk-Oxen for the song "Thinking About You."
The Blue-Music Oxen, Olde Worlde was produced by Brad Wood (Smashing Pumpkins, Pete Yorn, Ben Lee, Sunny Day Real Estate, Tortoise, Liz Phair) who recorded and mixed the album in Los Angeles. Wood provided the multi instrumentalist Olde Worlde with a rich template of hooks and grooves reminiscent of classic pop songs and dreamy soundscapes to augment the uniquely innocent voice of Numata. The album, sung entirely in English, evokes an almost otherworldly, dreamy soundscape.
Born in Machida, Tokyo in November 2009, Olde Worlde's first release, Time And Velocity EP, was quickly followed by his first full-length album Anemone – Whirlwind in 2010. Propelled by his incredibly unique voice (often compared to that of a young child) garnered Olde Worlde a great deal of attention in Japan and much critical acclaim. That summer, Olde Worlde played at one of Japan's most well known festivals – Summer Sonic.