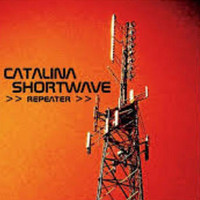 Indeed many feel solid musicianship is a dying art form in music as Power Pop and Rap dominate the airwaves with music that is for the most part – well not very real. But regardless of how you feel about Pop, or even Rap strong musicianship has remained strong and resultant over the years primarily in Jazz. However I must admit there is a resurgence of this type of music in bands like Dave Matthews Band, Phish and Tool. As a result its subsequent movements cannot be denied its place in our world. So I'm willing to give the latest CD "repeater" by Catalina Shortwave a good and proper spin.
Connecticut based 4 piece Catalina Shortwave is a band that thumbs its nose at genres. Regardless of this, their latest release entitled "Repeater" is one the more unique and unorthodox success stories stemming from the East Coast. These 4 have been beating the pavement, touring around the region thus making a name for themselves around that area with his old school rock sound and "live and loud" antics. The strong melodies and ethereal vocals on "Repeater" envelop the listener in mystery of all things Rock n' Roll related. Musical comparables for me are: Joe Walsh, Lynard Skynard, The Outlaws and Kansas. The album feels like a slow, groovy dream, where you never know what to expect round the next bend, and when you wake up, you're not quite sure of exactly what just happened.' Looking at the cover art renders a mysterious, thought provoking towery first impression. This true to form return of crazy writing style rock from the 70's around insane lyrics and playing style with a Progressive feel that flows. It's passionate, intricate music but goes well beyond decent chops. You can tell 2 minutes into Track 1 "Don't Never Take Your Love Away" via the rough and tumble sound, straight forward retro-rock playing, and well-honed movement you might be in for something special. Track 2 "Annie Boleyn" should be a song featured on a Video Game and "Running on Vapor" is freaking off the hook. Every track, every arrangement, every note on this album is seamlessly blend of the Catalina Shortwave musical craft. It's really testament to who they are – themselves. It's obvious that there's probably a cult fanbase out there totally in love with these 4 right now. In fact I will admit I love this band and everything they attempts to sing and represent – casual observations. Remember my first paragraph? Here's one band that has the balls and courage to write, play and release music that goes a bit against the grain but will remind you just how bad modern day music has really gotten. In fact in this age of Kardashian-esqe entertainment I got to hand it to a band like Catalina Shortwave who is the fruit of what many have been longing for – old school guitar driven music.
The album is not the best quality I've ever heard. In fact I have ZERO confidence it was done professionally. It almost damaged my speakers on really loud volumes and sounds like DIY music released back in the 80's. It almost sounds like a 50 minute jam session. This CD by Catalina Shortwave are in dire need of an Engineering overhaul. In the hands of a capable and experienced musical producer this band will reach its fullest potential no doubt.
All other items check out well. If they get the above right – they will be on to something special.
Purchase Link: http://www.cdbaby.com/Artist/CatalinaShortwave
URL: http://www.catalinashortwave.com/
Score 2/5 Stars
Joshua Madden