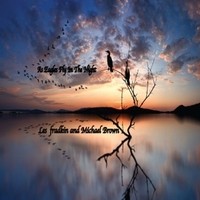 Les Fradkin & Michael Brown are soaring high with their latest release titled "As Eagles Fly In The Night". The duo performs this song as a complete instrumental with Pop/Rock/Classical elements hitting you all at once. The overall sound is quite appealing and the recording is very clean 'n' crisp.
Both members have rich musical history that goes all the way back to the groovin' 60s. Michael Brown was keyboardist/composer for the group The Left Banke that had a string of hit singles including "Walk Away Renee" & "Pretty Ballerina". Written by Brown, "Walk Away Renee" went on to be a huge success for The Left Banke and was even named one of the Top 500 Songs of All Time by Rolling Stone Magazine. Other groups he fronted were Stories (several Top 40 Hits) & The Beckies and he also did some producing for the band Montage for Laurie Records. Since then, Michael Brown has pretty much been out of the music circle that is until Les Fradkin recently contacted him.
Les Fradkin also has many years of experience within the music industry as a musician/producer/artist/composer. Les played the role of the late, great George Harrison in the original production of "Beatlemania". Throughout his career, Fradkin produced hit recordings for: MGM, Sunflower, Laurie Records, RCA, Arista, Bell and ESP-Disk. He is also inducted into the Television Producers Music Museum Hall of Fame for his groundbreaking work with Score Productions and ABC-TV in the 1980s.
Video for "As Eagles Fly In The Night"
https://www.youtube.com/watch?v=mytknRH6DxY
Jumping ahead to present times, Les Fradkin prides himself in being a masterful artist/musician/composer/producer with his one-of-a-kind Starr Labs Ztar at his side. And Michael Brown continues to be an ace-in-the-hole songwriter/musician. Together, the two members have come together to create musical magic full of wonder & surprise. With their deep roots in classical & rock music, Michael and Les gel together perfectly on the new track. An ironic and funny story is that Michael had always wanted to do an instrumental album and Les had expressed interest in producing such a record early on. It wasn't meant to be then but now over 30 years in the making, the dream has become a reality for both. "As Eagles Fly In The Night" is the first single for Les Fradkin & Michael Brown with a full album in the works. The song was written by Brown and then digitally sent over to Fradkin where Les initially loved the song but wanted to add some more sections & a full orchestration to give it more of a fuller sound. Mission accomplished because after the completed copy was sent back to Michael and his wife Yvonne, both parties were blown away at what they had heard. The two of them really felt like they had a hit single in their hands and with good reason too. The single was released on August 12, 2014 and during the first week of its release, "As Eagles Fly In The Night" climbed to #48 on the iTunes Top 100 New Release Rock Charts. The track also went to #6 on ReverbNation Locally, #230 Nationally and #382 Globally. Even more impressive is the fact that this is an instrumental act hitting the charts with no big band or powerhouse singer backing them. This is just two men with a true vision in place making it happen. With the early success of the first single, two highly creative minds are set in full motion with Michael Brown now signed to Les Fradkin's label RRO Entertainment.
Les Fradkin & Michael Brown "As Eagles Fly In The Night"
http://k007.kiwi6.com/hotlink/9i8ec03pxg/As_Eagles_Fly_Edit_mp3-1.mp3
The beauty of this instrumental recording is that Les Fradkin's guitar and innovative Ztar takes the place of a singer with its human-like vocal qualities. A very imaginative & creative approach to take indeed but one that worked perfectly for what Les and Michael were trying to create with this piece. And then throw in Michael Brown's masterful songwriting ability to go along with his stellar playing on the piano. An interesting fact here is that this entire process was done completely online, which allowed both Les and Michael to have complete artistic freedom. It is a win-win situation for the duo who plan on making much more groundbreaking instrumental music for audiences to enjoy. It's amazing to think that when Les Fradkin visited Michael Brown to shoot the video for "As Eagles Fly In The Night" (https://www.youtube.com/watch?v=mytknRH6DxY) that was the first time the two had seen each other in 36 years! Goes to show you though that patience does pay off and that all good things happen in due time. You can purchase the single "As Eagles Fly In The Night" on iTunes (https://itunes.apple.com/us/album/as-eagles-fly-in-night-single/id905692153) & Amazon (http://www.amzn.to/1q7l69H) and be sure to SKOPE out the video right here!
http://www.reverbnation.com/lesfradkinmichaelbrown
https://www.facebook.com/lesfradkinmichaelbrown
http://www.lesfradkin.com
http://www.reverbnation.com/lesfradkin
https://www.facebook.com/lfradkin
http://www.youtube.com/user/lfradkin
By Jimmy Rae + (jrae2@att.net)
5 Skopes