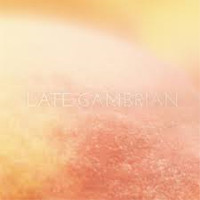 3 piece rock band Late Cambrian just released their latest CD entitled "Peach" (2014). This 13 Track offering captures the energy and foundations of this band. Songs such as "Ryan Gosling", "The Label Needed a Single" and "The Wolf" have off the hook vocals, thumpy beats, crunchy guitar, and heavy bass lines that will make you dance, sing, and beg for more.
I get the impression it was ultimately songwriting that captured these guys hearts and imagination. Late Cambrian (feat John N Wlaysewski – Lead Vocals, Guitars, Synth, Percussion, Claps, Nunzio Moudatsos – Bass Guitar, Background Vocals, Claps, O – Background Vocals, Synth, Claps, Lead Vocals on Track 3 & 4) are not only good, songwriter, but they are what I would call musical method actors. I could defiantly hear them doing a morning radio show together. Track 1, "Lovers Point" is indeed a festive listen. That's apparent from the opening few tracks this is a surprisingly easy CD to just groove to. The sharp edge collection of songs is very compatible with the persona and personality of these 3 which will intrigue and indulge many. Personally, the "intrigue" quality struck me as I was listening to it, mainly because I wanted to see faces to the voices. When I saw the picture of these three they were everything I expected them to be visually. Getting back to the clean comment – some listeners might think that their rock approach is a little too "clean." I wish there were a few harder punk thrash rock pieces on the CD to be honest.
My top picks are "The Wolf", "Ryan Gosling" and "The Luddite".
On all tracks you will hear piano, organ, guitar, drums, bass, vivid vocals, vivid vocal layering and a small amount of guitar soloing. Typically, because I am a DJ by trade you can find me posted up with my laptop with a choice beverage perusing the web while digging into new and fresh music. As "Peach" breathed gently out of my speakers, it captivated me and inspired me to write down my thoughts and feelings. Feeling I had about life from day to day, from moment to moment. Perhaps this is the same approach they had when writing this CD. Yes I played it in the background while I was working out as well. This is the perfect music for these types of background activities. "Peach" delivers several superb performances from these 3 and the best songs like "Made for Love" even delve into extended play territory.
Songs like "Lovers Point", "The Wolf" and "Ryan Gosling" offer a lot insofar as Marketability and Radio friendly airplay. The CD also allowed me to indulge into memories of my childhood when I used to listen to bands like The Fratellis, The Black Keys, Good Charlotte and Jimmy Eats World provided the escape I was looking for, while all 13 tracks washed over me. While I'm definitely pleased with the smooth, easy-to-digest rocking sounds of this release, it's easy to see that most everyone will be won over by it.
"Peach" by Late Cambrian is an impressive talent within their own right. It's witty, it's gritty, it's infectious, it's like a powerful drug – it's Late Cambrian.
Final rating: 5/5 Stars
(2014) Tinderbox Music
URL: http://www.latecambrian.com
Michael Cooper