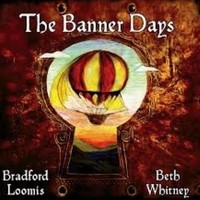 Today I listened to the 7 Track CD by Marysville, WA musical duo Beth Whitney Bradford Loomis entitled The Banner Days. These 2 are one up and coming artistic duos that cannot and should not be underscored. All music, lyrics, and fretwork invites the listener to sift through a multitude of folk-pop-rock sounds, all of which congeal up a tangible yet gorgeous selection of songs – 7 of them in fact. It's all kicked off by the epic "My Beloved" which when you listen to the piece is the perfect intro statement to start a musical journey with. There's somewhat of an upbeat, hopeful tone and mood here when one is introduced to this amazing blend of both artists and their soulful voices for the first time via this intro track. Both Whitney and Loomis are well suited for Folk/Pop. I have to admit when I saw the pictures of these two and after listening to this first song – this band was everything I imagined them to be. Both have a good look for this style of music. On The Banner Days we hear music reflecting the many tongue and cheek offerings provided by past bands like The Head and the Heart, Delta Rae, He Secret Sisters and Kacey Musgrave's, and The 1975. I see this music as mostly Acoustic Folk with a Popish sensibility. This crossover style of music is getting more and more popular by the year with artists like Mumford & Sons and The Civil Wars. This proves to be a very well grounded environment for this collection of songs.
Bradford and Whitley branch off with other tracks like "Come Dance with Me" and my personal favorite "Song in My Head."  Artistic expression should never be held to a strict guideline of musical fundamentalism. I hate to use that word "fundamentalism" here but that's the way it feels sometime when we try to categorize artists. Folk based bands like this sad to say are competing with cheesy pop, as most good bands lately have been replaced by what I would call sonic garbage. I also don't think "musical fundamentalism" is what traditional Americana, Singer/Songwriter is about, and yes this album is fundamentally Americana based. Having said this The Banner Days is in a league of its own combining the best modern acoustic pop has to offer. The mix is so dynamic I would even call it epic pop or theatrical folk. Though these two are based in the Pacific NW they could most certainly pull it off in a place like Austin or Nashville. The musicianship is off the charts, the songs are well crafted and the catalogue is a fully loaded 7 track set.
Sorry to say the album leaves you high and dry with only 7 songs. If this is an EP it gets 5 stars by me. If it's not an EP then it needs more songs plain and simple.
"The Banner Days' is a strong release and also refuses to fall into the trap of becoming fundamentally duress-ridden pop. The musical arrangements really differ from song to song and the vocals and emotional latitude tend to remain compatible with that versatility of the artist. All at a constant level throughout. Its music that you could use to watch the clouds go by – but also make you want to jump up, grab your guitar and write a powerful song that could change someone's life. To inspire someone in on a very sincere and powerful level about a journey into the unknown – yeah that what classic free spirit Americana music is all about?
BANDCAMP: http://bannerdays.bandcamp.com/releases
by David Sharff edited by Markus Druery
Primary URL: http://thebannerdays.com/
Score: 4.5/5 Stars
Review comments: marktheshark972@gmail.com