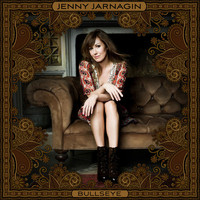 Jenny Jarnagin's "Bullseye" is a celebratory pop perfection. With a large sound and great energy Jenny Jarnagin defines her sound with a phenomenal amount of instruments. From piano to banjo and many more, Jenny Jarnagin's voice confidently soars above it all. At times cinematic in tone Jenny Jarnagin's songs are well-crafted pieces of art. The sound ranges from contemplative to loud and everywhere in between. Melodically the songs are memorable filled with wonderful hooks.
http://jennyjarnagin.com/release/bullseye
"Bullseye" the title track opens up the collection with style. How the song slowly unfurls is masterful. Jenny Jarnagin's vocal performance is strong and serves as the heart. "Zero To Hero" starts nearly in the middle of things with an infectious melody and rhythm, making it the highlight of the album. For "Big Broken Heart" the song begins on a rather regal tone before the jerky rhythm takes over. Things slow down and sprawl on the ambitious "Over The Edge" which serves as one of the more introspective songs on the album building up and letting it out for the gratifying final moments. Energy is infused into the defiant "I Was Born" which virtually demands to be played as loud as possible. Finishing up with the tender "Okie Girl" the song begins on a subtle low-key approach. Jenny Jarnagin works with this mood lyrically giving "Okie Girl" a narrative natural feeling.
Such a variety of different tones and textures help to make "Bullseye" a memorable album.
https://www.facebook.com/JennyJarnaginMusic
Posted by Beach Sloth