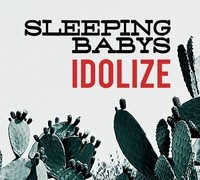 Sleeping Babys keep things simple on "Idolize". With a distinctly 60s retro flair to their sound they are reminiscent of other 60s pop revivalists like Stereolab and their ilk. "Idolize" is a great take on what pop music often forgets: simplicity. By stripping the sound down to the basic drum, bass, guitar, vocals they are able to accomplish a great deal. A number of different approaches are found within the collection from the moody to celebratory. Vocals on it serve as the main focus of all of the songs and help give them power.
https://itunes.apple.com/au/album/idolize/id773040131
Beginning with the Spaghetti Western inclined "Lovekill" the album starts on a high point. Stacie's voice serves as the focus of the song with the guitar providing additional adornment. On "Idolize" the full band is introduced. Such a smooth sound "Idolize" is easily the best track on the album with the song slowly unfolding until it reaches absolute perfection. "Wonder" takes a more mysterious approach with clever guitar work and an infectious groove. Moodier atmospheres are explored on the dark "Goodwife" which harks back to an earlier time. The song's slightly fuzzed out guitar adds quite a bit to the overall vibe of the song. Finishing the collection off is the "Everywhere but nowhere" that understands the importance of the bare essentials. Spacious the song appears to be a horizon of sorts with the light just on the periphery.
Stylish and succinct "Idolize" shows how dedicated Sleeping Babys are to making timeless pop music.
http://www.sleepingbabys.com.au/
Posted by Beach Sloth