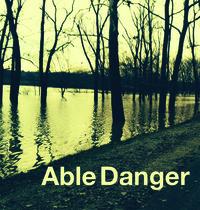 Dayton, Ohio can claim a new force to hit the music scene and its name is Able Danger. Able Danger is a new progressive rock band that had its first gig back in November of 2013. Less than a year in existence, Able Danger is already makin' a lot of noise. The group has already had the pleasure of sharing the stage with such acts as: Lacuna Coil, Sick Puppies, Eyes Set To Kill and Saliva. I can safely say that these musicians are in no danger of fizzling out anytime soon.
The band is made up of four members: Nikki Luttrell on lead vocals followed by Chris Stewart, Ben Willis and Jason Winner. Together they have created a sound that is dangerous; dangerously explosive & infectious! Nikki's voice will leave you mesmerized while the drums come crashing in like a storm. And then you will hear big waves of rock-heavy guitar riffs and tough bass lines. The band chemistry is off the charts as you hear Able Danger give one powerful & strong performance on "Escape".
There is no escaping the fact that Able Danger and their latest track are scary good. "Escape" is the first single off of their upcoming, debut EP called 'CHAOS'. The EP that includes the song "Escape" is expected to be released this Labor Day, so look for it on iTunes. 'CHAOS' is being produced by Indignant Audio Producer Matt Baltes and I'm sure listeners & critics will be buzzing about this one.
Excitement is in the air for this up-and-coming band and "Escape" is a rock-solid start that I would even call a gem of a song. Able Danger seems to have that special quality that will attract audiences and hopefully move them. I can tell that their music will connect with many people out there because "Escape" has that instant likability factor as it's easy on the ears. Powerhouse sound combined with true feeling & raw emotion= Able Danger.
Able Danger has an exciting show coming up on August 31 at the Madison Theater in Covington, KY where they will be on the same bill as TRAPT among many others. Able Danger is just starting out but I am very excited and hopeful toward the bright future of this progressive rock band. Don't try to "Escape" now because Dayton's own Able Danger is about to cause major 'Chaos' within the music community. Here's to Able Danger gearing up for one hell of ride as they attempt to put their stamp on the music world!
By Jimmy Rae (jrae2@att.net)
5/5 Skopes