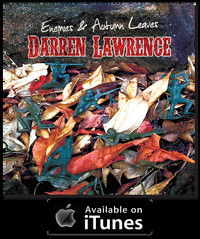 As the former lead singer for Ruby Tigers who had a decent run followed by some commercial success, Darren Lawrence now steps into the spotlight as a solo artist. Darren's latest single, "Need To Change", is off of his debut solo EP titled 'Enemies & Autumn Leaves'. I don't know Darren personally, so not sure if a change was needed or not but I can tell you this after a close listen that he has hit it right on the money!
Darren Lawrence "Need To Change" MP3:
http://k007.kiwi6.com/hotlink/sefj2861fl/02_Need_to_Change.mp3
"Need To Change" has such an earthy, cool sound that will put you at ease. The roots are Country/Americana but you can sense that Mr. Lawrence has a real rock & roll soul. I also picked up on the fact that this song has the perfect ingredients to become a hit single on Pop Radio. Darren is diggin' deep vocally & musically on "Need To Change" where you can really feel the magic being created. I was really impressed with Darren's vocals that seemed to flow so well throughout the track. The rich texture and distinct voice makes this Indie artist stand out from the rest. Singing-wise, the notes are sharp (and not in a bad way) as Lawrence sings from the heart. I was equally impressed with Darren's songwriting ability where his lyrics are full of real meaning & substance. There's nothing fake about Darren Lawrence or his new single, so at this point in his career I'd say there is absolutely No "Need To Change"!
Hailing from Australia, Darren Lawrence is an artist who I believe has found himself after hearing his breakout single. The creative juices were really flowing on "Need To Change" where Darren Lawrence was literally in the zone. Lawrence had the pleasure of working with Producer Anthony Lycenko (Pete Murray, Busby Marou) and job well-done as the recording exhibits a crisp 'n' clear, professional touch. It's crazy to think that this is Darren's first solo effort because he sounds like a seasoned vet! He has a special tone to his voice that will attract listeners because it's nice 'n' subtle. Musically, "Need To Change" has a lot going on with smart arrangements in place and fine-tuned instrumentation. I can't help but think of the process of watering a crop or plant and watching it grow bigger over time into something plentiful & wonderful. Darren Lawrence has arrived and has blossomed into a true singer/songwriter with a voice that will carry far. Mr. Lawrence has spread his wings and is now looking to soar high over the music community with his own, personal brand of musical sauce. Darren Lawrence is on a mission and "Need To Change" is one hell of a start!
We just may have a star in the making but in the meantime you can find out more about Darren Lawrence on his website. You can also find the single "Need To Change" as well as the EP 'Enemies & Autumn Leaves' on iTunes. And don't forget to Like Darren on Facebook and be sure to Follow him on Twitter! Last but certainly least, be sure to SKOPE out the official music video for "Need To Change" Right Here – https://www.youtube.com/watch?v=QopBFaxz2iA. Darren Lawrence has hit the stage running, so be on the lookout for this Australian artist.
http://www.darrenlawrence.com.au/
https://twitter.com/RealDLawrence
https://www.facebook.com/darrenlawrencemusic
5/5 Skopes
By Jimmy Rae + (jrae2@att.net)