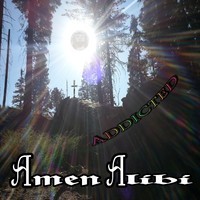 Amen Alibi could well be time travellers, bringing their instruments with them from forty years ago to make use of the modern recording technology that is now so readily available.
Their latest release, Addicted, brings together a whole host of influences and ideas from the classic prog/psych rock era, and delivers it with a sense of passion and gusto.
Listen – https://soundcloud.com/amenalibi
'Break Down And Cry' features perky guitars that scatter over insistent drums, with vocals that sit right up at the front. While the track lacks killer instinct, the layers of instrumentation are well intentioned and the lyrics offer intriguing abstract ideas, "You're a virtual nightmare". The track builds in an interesting way, opening with highly electronic sounding drums that give way to a more organic, analog sound.
"Back To The Closet"
http://youtu.be/zmg3_WazAug
'Go Some More' splashes its chorus laden guitars all over the place, with a grumbling bass line that leads the way forward for the track. The double tracked vocals nod heavily to classic era rock, and as the track progresses some imaginative sounds begin to appear – notably the synthy riff that features in the mid point and the almost sitar like sounds that squeal along after the evocative vocal yelp.
By Chris Marsh