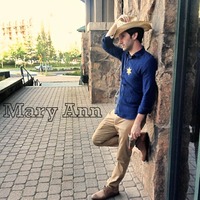 Country is as country does right here with Eric Frisch's 'Mary Ann'.
Stream the single: https://soundcloud.com/ericfrisch/mary-ann
Cracking out some classic blues riffs and laying down some serious square dance fodder, this is one of those tracks that ain't going to be for everyone. Writing as a Brit, it's not one of those genres that gets a whole lot of airplay over here, and it comes from a culture that often feels entirely alien. That said, there's going to be a whole load of folks out there who are going to dig it in spades, because let's face facts, there are entire states that more or less base their economy on this stuff. With it's live sound and whooping audience, 'Mary Ann' is a highly cheeky track, with its boy-meets-girl narrative and knowing lyrics, "Son, I'm gonna make you a man". The track builds up gradually with its straight ahead piano, shuffling drums, and later joyous hand claps. There are some treats to be found along the way, with a heady guitar solo that harks back to early Elvis Presley. The track's final closing bars are glorious, with an eye-winking seventh chord that hangs oh-so briefly before finally bringing everything in to land.
By Chris Marsh