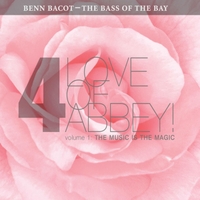 This CD 4Love of Abbey! (VOLUME I) is the latest release from San Francisco based Jazz Vocalist Benn Bacot. A CD of standards, some classics, of the American Songbook. Old blues from 1895 to 60's vocalese this CD showcases the many layers of a voice not often heard in today's music. No tenor or baritone here. Bacot's lyrical bass resonates deep to your core. He continues a winning combination of working with David Austin as arranger, engineer and musical director on subsequent CD's "My Romance" and "What Love Is!" and 2012's "STOLEN MOMENTS" and now the most his most important recording of his career "4LOVE OF ABBEY VOL. 1" A musical tribute to singer, songwriter, actress, activist Abbey Lincoln.
The CD opens really sets the mood with "The Music is the Magic" and toe-tapping "Living Room" and my top pick "The First Song (For Ruth) which would even make artists like Mose Allison jealous. These are three grand opening statements which are made up of fairly straightforward vocal -jazz songs. Many songs on "4Love of Abbey! (VOLUME I)" feature catchy jazz piano, bluesy personality, red hot vocals, drums and bass as primaries. Vocally Bacot works well as a singer in perfect unison with this style of music and is somehow unique, but hits all his notes very well. His powerful deep baritone is just as personal as his melodies are. It needs to be said – there's a certain amount of mood assigned to each track as well. The first few times I listened to it I was utterly keyed up by it. Some of the topics are not overly bright and happy either but Bacot knows how to write and sing you a captivating melody. What is there not to like about all of this? I also get the impression these musical statements apply to his life in some way.
The strong first impression following the first 3 track did not subside as the album progressed forward. The next few songs "Bird Alone" and "Midnight Sun" keep it consistent and are the strongest territory emotionally for this record. I would even wager some of these songs could have been big in the mid-'60s on Jazz Radio. There's something that screams mid-'60s when I listen to this music – and this is a compliment. Many feel the 60's were that last good decade for really good vocal jazz, and I would tend to agree. Even artists like Joe Williams, Johnny Hartman and Chet Baker have some moments that were not so bubbly – and yes all were big around that time. .
4Love of Abbey! (VOLUME I) is one of those albums that instantly grows on you. This soulful offering has hidden moments of intoxicating Jazz Ambience provides a mature sound and singer/songwriter type feel. All songs have solid rhythm, featuring an involving bass-lined and intricate slow moving Jazz rhythm section that interacts well with this catalog. The overall music is excellent and not only contains strong hooks, but it seems to soar at times like the motions of Bacot. My favorite tracks are: "I'm in Love", "The First Song (For Ruth)" and the classic remake of "Brother Can You Spare a Dime". I also feel these tracks optimize the Benn Bcaot sound to a "T"
Like me, you'll probably like it if you want something unpretentious to put you into that mood. It's a mood album for sure and only great artists like Benn bacot can pull it off and sets it all too well.
URL: http://www.bennbacot.com/
PURCHASE LINK: http://www.cdbaby.com/cd/bennbacotthebassofthebay2
Michael Banks