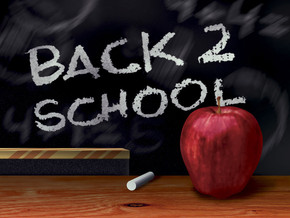 According to the National Retail Federation (NRF), book-to-school shopping is the second largest spending season of the year, and this year an estimated $75 billion will be spent for back-to-school and college expenses.
Mobile shopping is on the rise, as consumers are utilizing their smartphones more and more. The NRF states that 37% of shoppers will research school items with their smartphones, the highest percentage they've seen yet, and 58% of college bound students will use their device to shop for college items.
It's also important to be aware of back-to-school scams that target smartphone and social media users. Be wary of ads or links found on social media sites that offer large monetary gift cards for filling out surveys or entering contests. These links will lead you from your social media channels to malicious sites that will download malware to your devices. Scammers are also known to send text messages claiming to be brand name stores asking consumers to claim a free gift card by texting their personal information. These are smishing (SMS phishing) scams that lead to identity theft.
BBB advises families who are preparing for back-to-school the following tips for savvy shopping:
Make a List
Even if you don't have a school supply list yet, you can still purchase other items like clothing and in-class essentials like pens, notebooks and binders. Make a list for each child, but start by "shopping at home" for items that you may already have left over from last year. For some items, it's worth spending a bit more (a high quality backpack will last for years).
Set a Budget
Decide how much you are willing to spend. After taking inventory, create a shopping list and stick to it. Be sure to clip coupons and make a note of discount codes or rebate programs.
Avoid Social Scams
Some ads or links on social media sites will offer free products or gift cards by filling out surveys and giving your personal information. Some links will even lead to malicious sites that download malware onto your device or steal your information. Be sure to avoid ads that look too good to be true.
Tax Free Holidays
Many states have tax-free days in August, which can mean significant savings. Be mindful of restrictions, either a dollar amount or on the type of item purchased. Most tax holidays include clothing and school supplies; some include computers and sports equipment, too.
Sign Up for Alerts
By signing up for email or text alerts for you or your children's favorite stores, you can monitor pricing early on and you won't miss out on the hottest items or limited opportunities. But be sure to never respond to an unsolicited text from stores that offers free gifts cards or products and ask for your personal information.
Check Refund Policies
Be sure you can exchange or return items purchased during this time period. Keep in mind, some items may be non-refundable or have restocking fees associated with a return.