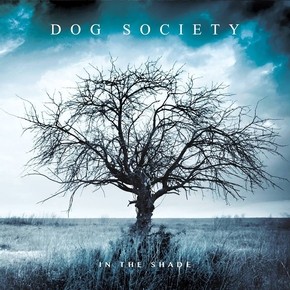 It is refreshing to see and hear new music from a band with humble beginnings. This would be the case for Bruce, Joe and Rich who formed the group Dog Society. The band name derived from the Dog Society Soldiers of the Native American Indian. Since the band member themselves adopted their own ritual it seemed fitting.
Richie and Joe are native New Yorkers while Brian was taken by them when they cross paths in Colorado. All the members seem to have similar musical tastes from the aggressive hypnotic sounds of Led Zeppelin to the refined beats of Buddy Rich. With so much artistic influence it is no wonder that such rich music is produced by this trio.
"We were all fans of Country, Folk, Jazz, Blues, Reggae, R&B and Rock and appreciated all the great music that surrounded us when we're growing up. That is why we have such good chemistry together and I believe that is why we are so diverse. I think you can hear all the influences in our music today for sure. We are different souls so it comes out a bit different, but the influences are definitely there."
The boys managed to create a "buzz" and began to get noticed in the music scene. Their talent and skills opened the door for them when they warmed up for legendary artist Blondie. The show was held at the St. George Theater in Manhattan. It was an opportunity that few ever have to warm up for such an A-list recording artist. The venue offered a Vaudeville style atmosphere that added to the moment. As the band explained, "What was nice for me was starting the set with the guitar intro to NOTHING TOO BIG as the thick velvet curtains rose above us and opened up exposing the sold out crowd! Very epic to us."
Dog Society would go on to release their debut album through Atlantic Records. This was a monumental achievement for them. They had the pleasure of working with producers Rob Schnapf and Tom Rothrock. But the pressures of what came along with being in the big leagues caused them to change gears. They eventually opted to sign on with an independent label which alleviated much of the stress.
Music – http://dogsociety.bandcamp.com
The band had the pleasure of also touring with acts like Sheryl Crow, Stone Temple Pilots, and Mighty Bosstones. This was stepping stone to what was to come for these talented artists. Back when they were touring each of these acts treated them as they were in the same class. It was like the being the "Wonders" in the Tom Hanks movie "THAT THING YOU DO" as the band explained.
Currently, the band has released a new album titled "In The Shade" which beginning to see some buzz. The album is a mix-bag of an emotional rollercoaster through the cycle of life. The band meant it to be an evolution of their previous work. They see it as a more mature approach then their debut album.
"All of our lyrics are triggered by things and events that personally happened to us as a group or as individuals. I like that fact that each song takes a poetic approach. We are very attentive to the words and lyrics to give them musical space to be heard. Our singer, Brian's approach is like a Venus Fly Trap. Most of his tone is warm and inviting and then the bite happens in a howl or scream."
Their success was also recognized by mainstream rock station 104.3. Which was one of their biggest accomplishments to date as band member Rich added, "You hear that commercial radio? Dog Society is here waiting to fill the airwaves!"
At present the band is filling up performance dates that will be over a period of time as they manage their affairs. Catch the band soon as they will be setting up shows nationally. They can also be found on Bandcamp, CD Baby and iTunes. Dog Society is on its way to planting flags across the States.
https://www.facebook.com/DogSocietyNY
by Nick Christophers