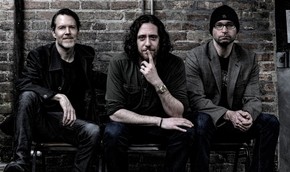 Willodean isn't a mainstream moniker. It's an anachronistic name, one for a band that chronicles longing, loneliness, and lost loves.
Willodean's self-titled debut album exposes someone as afraid of finding love as losing it. Dan Barrett's gravelly baritone has a toughness suited to — maybe rooted in — the vulnerability of the lyrics. Producer Eric Holden's upright bass resonates with sturdy, near-ancient melodies. Guitarist/pianist Randy Wooten's lyrics evoke a dreamy world of misgiving and missed chances.
Yet the band discovers a playfulness in the songs, a confounding curveball that makes the album fun.
A decade ago Holden and Wooten formed The Bloody Lovelies in Los Angeles then started Cheap Lullaby Records in nearby Venice. But after signing Gus Black, Joan As Policewoman, and The Bellrays, the Bloody Lovelies went on hold.
Willodean – "Julie Drinks with Demons":
http://youtu.be/ZjoXtGFtu_4