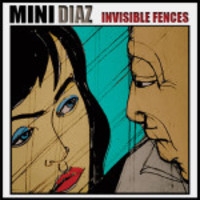 Taking cues from Chrissie Hynde and Zero 7, Mini Diaz delivers eclectic pop filled with passion and heart.
Let's face it, if music doesn't make you feel something then it rarely seems worth giving it the time. Thankfully, Mini Diaz creates exactly the kind of music that is impossible to listen to without being moved in some way.
Opening with 'Here And Now', the drums skitter in the background to lay a driving foundation for emotive vocals that rise and fall, soaring on the chorus with choral backing vocals that are dreamy and echo laced. 'Come Together' has a phenomenally fun construction, with its rumbling rhythm, cheeky trumpets, and quirky piano that creates a jolly sense of skipping along a pathway on a sunny day, while 'Sinful' has a more restrained and coquettish beginning, leading into moody acoustic guitars and a dark trip-hop beat.
Mini Diaz's vocals are strong, her influences from Chrissie Hynde are clearly visible and her music benefits from this, notably on 'Time Slips Through', a smoky, sassy duet which builds into a sprawling anthem of cinematic proportions.
Drawing Invisible Fences to a close, 'Free At Last' is sparse at first in its instrumentation, growing and developing as it progresses before launching into a big, powerful ballad backed with commanding drums, driving guitars, and some chimes alongside the layered vocals, finally reaching the end of its short but inspiring journey.
By Chris Marsh