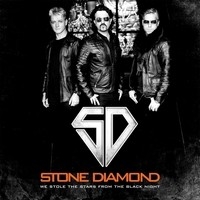 The clarity of this Stone Diamond is spot on with one jamtastic, brilliant cut!  Stone Diamond is a rock band that has a lot of history together.  Starting as a garage band some many years ago plus dealing with a breakup at some point in the past, Stone Diamond is moving forward with no regrets.  Coming strong with their debut album titled 'We Stole the Stars from the Black Night', the three members play on like they've never missed a beat.  Maybe the record should be called Well Worth the Wait? 
"Dark Lover"
http://www.youtube.com/watch?v=Ez0wZGr49Bs
I really stand by that last statement because I feel that Stone Diamond absolutely nailed it on their first attempt.  All of the years leading up to this moment and the build-up have made this record even stronger, in my opinion.   Stone Diamond is made up of: Cy on vocals/bass, Josh on vocals & guitar and The Tongue on drums.  Cy also produced, engineered and composed the new record.  Right away you're getting hit with a BIG sound from just three guys, which caught my attention immediately.  With Rock at the core, one will also pick up on elements of blues like on track 2 "Let It Roll" where you'll detect a real bluesy vibe.  It's also refreshing to know that on "Let It Roll" along with track four, "Tattoo", Stone Diamond is sticking to their true roots by incorporating that raw, garage band appeal.  The album starts up with the first single titled "Love Stays" that has both a pop-friendly tone and a rock edge.  The vocals on this track are also quite shiny & bright in none other than Stone Diamond appearance.  One of my favorite numbers on this 11-song set is track 3, "Flavor of Tears", because it just has that real rock & roll flavor while the guitar is bringin' the goods.  Changing up the pace a bit on "U Know", Stone Diamond decides to slow down the tempo and go deep.  On song 7, "When We Were Young", the listener will hear a powerful chorus and then turn it up a notch on the next installment, "No Boundaries", where the energy level is up and the driving force is provided by the drums.  A lot of heart is pumping away on track 10, "Just 4 1 Day" and the closing song, "Long Hard 5 Days", has got a lot of attitude for you to chew on.
Overall, I am very impressed with Stone Diamond's first release and I'm so happy that they were finally able to make it happen.  'We Stole the Stars from the Black Night' is definitely Well Worth the Wait, as I said before, and I would highly recommend this album.  The record offers a lot of substance with a diverse mix of songs for everyone to enjoy.  This Stone Diamond is cut just right and surely ready for display.
http://stone-diamond.com + https://www.facebook.com/StoneDiamondBand
4 ½ / 5 Skopes
By Jimmy Rae (jrae2@att.net)