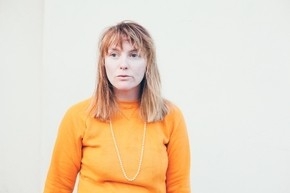 After 5 years and countless self-released tapes and CDs, Megabog – the brainchild of songwriter Erin Birgy – has completed their debut album and best work to date; a swirling pop cloud called Gone Banana. Today we are pleased to share the first cut from the album, lead single "Year of Patience".
 
Click here to listen to "Year of Patience"
https://soundcloud.com/couple-skate-records/mega-bog-year-of-patience
Opening with an exuberant burst of saxophone, "Year of Patience" blooms triumphantly into a bold and effervescent jazz-rock infused pop song, indicative of the joyous declaration of artistic independence and purpose that weaves its way throughout Gone Banana.