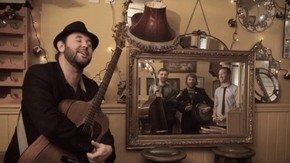 Hello there my loyal readers and music lovers, it is good to be alive today! I would like to take a moment to applaud Magic! for their smash hit, "Rude." I love to see how bands like Magic! go from obscurity to fame all in a moment. Their original fans might call that "selling out" but I call it opportunity. One of my favorite websites got great news last week, lyrics site Rap Genius has reportedly raised $40 million in private funding as it changes its name to Genius.com and launches new functions. There is no shortage of music lovers in Japan. Japan Music Promotion has announced that they now offer a new PR contact list, designed to help artists with getting their music exposed & promoted in the Japanese media. All contact lists are available on their website: http://japanmusicpromotion.com/ListManual.html, so if you want to get heard in Japan, head over to that link. Many do not know this but through marriage, I have been accustomed to Irish culture. I have grown to love the music, the food, and the history. Music is a huge part of that and Paul Creane and the Changing Band make me want to order a pint of Guinness and talk at the bar until I cannot stand up. I have the new album from the guys, 'The Clock' and it is so melodic, soulful, and spiritual. I had to have the guys on and Paul talks about Guinness and some corned beef and cabbage in Ireland, creating the album, streaming & buying music, and so much more!
Stoli: Where are we talking from today and how is your week going so far?
 
My week has been great.  Right now I'm sitting at the kitchen table with a cup of tea recovering after a nights camping in the woods in my hometown of Wexford.  It felt like summer had arrived this week so what better way to enjoy it than getting out to nature with a tent. Happy days.
 
Stoli: I married an Irish woman and I love Irish food. Where do you go for a Guinness and some corned beef and cabbage?
 
Congratulations for marrying Irish.  There's no shortage of Guinness and corned beef and cabbage here.  There's a pub here called The Sky & The Ground that's the "go to" place for my Guinness.  It's actually named after a song by a Wexford artist called Pierce Turner who moved to New York and has created some fantastic work.  We're quite lucky here as regards food.  There's a little restaurant called Cistin Eile.  That means Other Kitchen in Irish.  Good corned beef and cabbage.  My mother makes a fine Sunday Roast too.  But it's not for sale.
 
Stoli: Irish culture is all about music. How much music was there growing up in your family and what artists did your parents listen to?
 
Music is a huge part of our culture here in Ireland.  It would be tough to find someone here who wasn't related to a musician of some sort.  But my family was more of a sporting family really.  My father was a fighter and my uncle played Gaelic Football for Wexford.  So growing up, sport was probably a bigger part of my life.  I do remember my father putting on records when I was younger though.  Don Williams sticks out.  Maybe that explains my interest in country music.  An interest in writing songs came early enough in my life though.  I was about ten or eleven years of age.  As soon as I showed an interest in writing my parents never did anything less than completely encourage me.
"In Lieu Of You" by Paul Creane & The Changing Band
http://www.youtube.com/watch?v=nRuYxWKsQf8
 
Stoli: When did music become more than a hobby and you decided to form Paul Creane & The Changing Band?
 
Music became more than a hobby for me as soon as I wrote something that I felt I wanted people to hear, in my mid teens.  I played with a band called Red Lunacy during my late teens and very early twenties.  It was very different, more pop rock, than what I do now but we took it very seriously.  We made two albums but after a few years I had kind of grown out of what we had become, or had been trying to pursue.  I knew it wasn't the music I wanted to write, but I didn't know what I actually did want to write.  So I left that band, which was hard, as it was something I had done for years with a very close friend.  At that stage I took some time out and tried to rediscover what I wanted to do artistically. I wrote a solo album, went to Galway to record it and when it was done I threw it in the bin immediately.  There was a period of genuine frustration and loss of confidence where I didn't know what I was gonna do.  At that point I met a friend of mine, Donal Byrne, who I hadn't seen in a few years, who had some recording gear.  He was into what I was doing so we started recording together.  He's from a family who all play music so as we needed certain musicians on the tracks they all began to get involved.  It became obvious that it was a creative project for a full band at that stage so onwards we went.  
 
Stoli: How did you find your bandmates that shared your vision and how much time per week can you focus on the music?
 
Looking back, I think the name "The Changing Band" came from my unwillingness to commit to actually having a band as I felt at the time it was just such a hard thing to keep together.  But the philosophy of the name changed very quickly when I got involved with the Byrne family.  We were playing with a lot of different people and playing sit down, unplugged sessions in pubs just for fun. Unrehearsed.  So that's what the name began to mean.  Our first album, Tommy Black & The Twelve Days Of Lucy, was released a few years back and we brought that on the road.  It was the first time I was in the company of these guys while I was writing the basics of the new songs so, where the first album was a collection of songs written by me that the lads came and played on, the new songs became "our songs" as everyone had much more creative influence on the material.  The more collaborative it gets, the more we are enjoying it and the knock on affect of that is that we spend more and more time doing it.  It's pretty much an every day thing with me.  Whether it's working on new material, spending time online getting the music to as much people as possible, or playing live.  It was a decision I made at a young age that I would make it my life, and I'm still dumb enough to be pursuing it now it seems.
 
Stoli: Being that the band is named after you, would you say it is a democracy or dictatorship?
 
Funny question.  I mentioned this to the band before.  We sat down, had a long chat, and we all agreed that it was a dictatorship.  No, all joking aside, I think it's a bit of both.  It is a democracy in terms of the work everyone puts in, so of course everyone's opinion on band matters is of equal importance.  When it comes to creating music it has never been an issue as everyone always has the interest of the music at heart.  When you're in a collective frame of mind where you want to challenge yourself and be creative, it's never personal when we have creative disagreements.  Even that's rare.  We just play until we land somewhere that we're all happy with.  Ultimately decisions have to be made final by somebody, so I guess the fact that I was foolish enough to put my own name in the band means that I can be that person when it's needed.  But it seldom is.
 
Stoli: I am loving your new album, 'The Clock.' How long were you writing & recording the album and what studio did you use?
 
Thank you very much.  It was mostly written while we were gigging the songs from the first album, although some of them were written before that but didn't fit the narrative theme that the first album needed.  Altogether the songs were chosen from a collection that was written over a year or so.  Maybe a little more.  We didn't actually go to a studio to record the album.  We rented a house with a big open room and just built the studio up.  Guitar booths made from mattresses and old double glazed throwaway window units.  But that gave us the opportunity to spend a lot of time there and record different versions of songs and talk through what type of vibe we were trying to capture.  Some overdubs, vocals and piano were finished off in the Wexford Arts Centre, which was a lovely room to record in as well.
 
Stoli: I love the video for "In Lieu Of You". Who came up with the vision and how does that relate with the song itself?
 
Thanks.  I'm glad you enjoyed it.  The first problem when making a video as an independent band is the realisation that you have no money to do it with.  So we tried to come up with an idea that had charm but that we could actually get made.  We had done a photo shoot with a friend of mine, Caolan Barron, who is a photographer and he took a shot of us that involved a couple of The Changing Band members in a mirror.  The idea came to me then one day that it could be fun to play the song beside a mirror and have different images passing through it.  So I began working with an Irish based film company called William R Keane Productions and we started having fun with the idea of a mime interacting with everyone as they passed through the mirror.  It was cool to involve some kids as a mini Changing Band, including my nephew and one of the band members daughters.  The concept for the video doesn't directly relate to the song itself.  It was more about having fun with everyone involved and I'm not really a big fan of the visuals being too literal anyway, at least for this song.
 
Stoli: If I were to come visit you – where would we go for some live music and Guinness with Jameson?
 
Well I'll start by saying you're welcome to visit any time.  The pub I mentioned earlier, The Sky & The Ground, has fantastic music on every week and the Guinness and Jameson won't disappoint you either, I'm sure.  A lot of touring bands, both Irish and International, pass through there because of the reputation it has.  It's a great place to connect with other acts who are pursuing the same thing and helping each other out on the road.  The whiskey is on The Changing Band anyway if you ever decide to venture over to our neck of the woods.
Stoli: As an artist do you prefer when people stream or download/buy your music and how do you consume music?
 
I've thought about this a lot of course.  I think there are pros and cons.  There is the argument that streaming can provide a big platform for independent artists to reach people with their music. However, I think the culture of streaming and downloading music for free will ultimately have a negative affect on music and art in general.  The costs in making, distributing and promoting an album are still very high whereas the demographic of people who are willing to pay for it is steadily decreasing.  At the same time, it's how the industry is right now so it's up to artists to try and figure out a way to be creative within these constructs and use it to their advantage.  Personally, I like to buy CDs as often as I can.  But I'm one of those guys who enjoys looking at the album artwork and footnotes.  I still think it's the best way to listen to music.  The streaming generation is kind of killing the idea of a full album.  People are more prone to sampling different acts and have such big libraries that it's becoming less common for someone to sit down and listen to an album in its entirety.  But that's the way things go.  Swings and roundabouts.  I'm not saying artists had it easy before streaming either.  It's much easier to get to a wider audience these days, but like I said, it's up to the artists to brainstorm and figure out a good plan.
 
Stoli: What is coming up for Paul Creane & The Changing Band and where you @ online?
 
I'm more excited about what's coming up right now than I ever have been.  We're bringing the new album on the road and trying out some cool ideas and partnerships here at home.  We are forming a collective called "South Sea" with some other acts from Wexford, including Cornerboy, The Man Whom and Johnny Stewart Trio, all fantastic acts.  We want to celebrate the abundance of talent that comes from our little town.  We're going to be working together putting on shows around Ireland in unique, historical and interesting places that wouldn't typically host music.  It's going to be something really different for us and a lot of fun.  Good times ahead.  Apart from that, we're working on new material for the next project, which will hopefully be out at the end of the year.  Personally I'm working on a book of short stories called "The Dim Lamp Cafe," and a kids novella called "The Patchroof Moment." Both really ambitious for me but I'm excited about doing it.  I'll be finished by the time you visit us for some whiskey I hope.
 
You can find us online at all the typical cool social hangouts:
 
Facebook: www.facebook.com/PaulCreane
Twitter: www.twitter.com/PaulCreaneMusic
Instagram: www.instagram.com/pcreane
Website: www.paulcreane.com
Album: https://itunes.apple.com/ie/album/the-clock/id829027942
South Sea Collective: http://southseamusic.com/