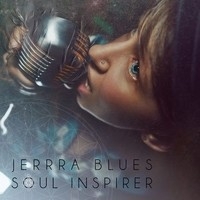 Transformed from a b-girl to an MC on one of the modest hip-hop labels in Russia in 2004, recording a handful of singles as both a rapper and singer, and also winning a few festival contests. "Hip-hop quickly became my religion and the love of my life" Jerrra. Some of my biggest musicial inspirations are Lauryn Hill, Etta James, Erykah Badu, Billie Holiday, Roisin Murphy, Elsiane and Led Zeppelin. This latest 10 Track release is called "Soul Inspirer (SPECTRA RECORDS) and was released late last year.
This powerful, highly marketable album tells the story of a gifted artist who got lost trying to find herself and only found herself when she was lost. Her lyrics are intertwined with beautiful harmonies, rustic beats and rhythms, raw emotion and sonic-pop twang. One gets the impression, early and often, that Jerra Blues very much a Hip Hop-Pop oriented artist, almost to the point where live performance based recordings are stripped down re replaced with refined sonic touches. For her style of music this approach works extremely well thus putting the spotlight of Jerra Blues herself as the primary.  The songwriting is far above average, with earthy tones, songs that naturally run their course not under duress, and a wide variety of sonic-ambient pop tidbits offering the bulk of what makes this 10 track CD so impactful and enjoyable. Lately in other forms of entertainment the emphasis seems to be shifting from a good acting or effective character development to things like Special Effects and visual flash. Music is following down the same path. With Music the emphasis is shifting from good genuine songwriting to top flight vocal ability to more visual flash, autotune theatrics and overly choreographed performances that lack spontaneity. None of this really applies to Jerra Blues – but she's smack dab in this genera. For the most part Jerra Blues is really great at one thing – singing her heart out. The vocal performances are pure gold, and the messages are clearly real.  "Soul Inspirer" is a heavyhearted showcase of fine musical and instrumental ability. Sure her vocal talents may not be to the level of Celine Dion but she gets her point across in spades with amazing grace, finesse and touch. Jerra Blues also possesses strong musical instincts behind the microphone and also has cutting edge. Musical flow equal parts intimate, equal parts intricate providing the perfect underpinning each song needs to make a real connection with the listener. Musicianship and production strokes undeniably appealing, with Electronica, Hip Hop sound laid over solid bass grooves covering a variety of genres (in terms of tempo and feel). Also worthy of note is the radio friendly production work, which does a definitive job in highlighting the vocal delivery of Jerra Blues.
Top Tracks: My Anger, Keeping Me High, Rooted in You. 
The more you are emotionally in-tune with her messages and music, the more powerful her lament will become. I find myself more intrigued by this concept, although the concept by itself is at best a loose thing that is hard to pinpoint. In other words you have to be in the mood to fully grasp this record thus maximizing the impact. Jerra Blues and her songs have punch, zing, variety and emotive impact compatible with reality – and this is the beauty of the title and concept that is "Soul Inspirer" .Like the title implies, it will inspire your soul very much like it did mine.
It's all relative, of course, and fans of Lauryn Hill, Joss Stone, Lily Allen and Corina Bailey Rae will no doubt love Jerra Blues. Other fans will perhaps find more to love about these 10 songs, but I can't not give credit where it's due. Jerra Blues has talent, She is not some tacky superficial artist trying to get your attention; she has probably lived the life and walks the walk. She is for real, this music is real, and it's what the world needs right now – something real. Let me repeat that in case you missed it – what the world needs right now – something real. "Soul Inspirer" is something real delivered by a real person, who is armed with real life experiences and sung straight from heart and soul.
URL: http://www.jerrrablues.com/
Score: 4/5 Stars
YOU TUBE: https://www.youtube.com/user/MadamBlues
by George Annable