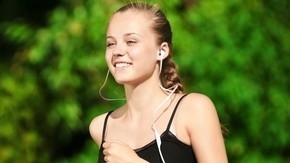 If you're like most runners, you probably include your favorite music player and a set of earbuds as part of your essential equipment. Listening to your favorite tunes as you hit the pavement or treadmill (or do other workouts) doesn't just keep you entertained. It can give your running a serious, measurable boost.
How Music Affects Your Run
Music has a strong influence on your overall mood. As reported by Sonya McGilchrist of the BBC, researchers from the McGill University in Montreal found that listening to music you enjoy can increase the levels of the feel-good chemical, dopamine, by as much as 9%. Applying this to your running, when you feel positive and satisfied, you're more likely to see yourself as capable of finishing that extra lap or mile and push through, and setbacks won't get to you as much.
There's also research suggesting that music affects elements of exercise such as strength and explosiveness, affecting your perceived exertion and letting you focus on external information. Other research suggests that music can affect your heart, respiratory and blood pressure rates and the ability to feel pain, as reported by Emily P. Walker of MedPage Today.
Then there is the fact that music has a pace. Most runners end up synchronizing their steps to the beat of whatever they're listening to, so by paying attention to the beats per minute or speed of the songs you select, you can challenge yourself to go faster, make sure you don't overdo it or create a framework for interval training. You can make different playlists depending on what your goals are for the day, such as speed, endurance or maximum calorie burn.
Top Songs to Move Your Feet
These are some of the best songs to keep you on targeted and boost your motivation as you run. Coupled with great running gear available in stores and on sites like SportPursuit.com, they'll take your performance to a whole new level.
1. Let It Go–Idina Menzel (from Disney's hit animated film, Frozen)
2. Eye of the Tiger–Survivor
3. Pump It–The Black Eyed Peas
4. Lose Yourself–Eminem
5. Footloose–Kenny Loggins
6. Raise Your Glass–Pink
7. Roar–Katy Perry
8. Can't Hold Us–Macklemore and Ryan Lewis, featuring Ray Dalton
9. Get Lucky–Daft Punk and Pharell Williams
10. Applause–Lady Gaga
You of course don't need to stick to just these songs, but they're a terrific start. If you look for others in your own library or to buy, a good running pace is usually somewhere around 140 to 160, but because individual fitness and stride length can vary, don't limit yourself. Always choose music that accommodates your body and level to stay safe.
Conclusion
Turning on your music player as you exercise can help the time pass, but listening to music as you jog, run or sprint also dramatically can affect how you feel emotionally and physically, enabling you to raise the bar on your athletic performance. Use these songs or choose your own to start running better now.
Corinne Martin has been a personal trainer and fitness class instructor for several years. From her experience and creativity, she loves blogging about finding motivation and improvement for any fitness routine.