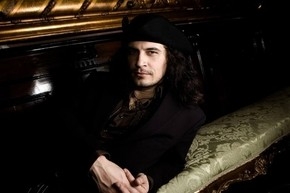 It has been five years since I first introduced Vlad DeBriansky to Skope Magazine Online.   He is a jazz, blues, rock and classical guitarist as well as composer and songwriter, music producer, television producer and actor.
 
Vlad's biography says, "Music has the ability to transform, heal and speak to the soul. And when it transcends itself, music is no longer music but rather the truth and philosophy of life. This is the true essence of highly accomplished guitarist, arranger, producer"– Vlad
 
Beyond any musical boundaries, his creations can be described as Contemporary World Fusion, combining a mixture of sounds, from World, Jazz, Pop, Symphonic, Soul and more. Now weave together all of life's richness and add hues of color and layers of texture. This is what is heard in each of Vlad's works – each song a different experience and each note a different moment expressed."
 
Born in a small town in the western part of Ukraine Vlad DeBriansky began his musical career at age 7 playing drums. "I was fascinated with rhythm and especially drum sounds," recalls Vlad who used to bang on books, silverware and plates. At 13 he took guitar lessons and from that moment on the guitar became his path in his life. Vlad studied jazz and classical music and loved every minute of it. By age 14 he won several jazz festivals in Eastern Europe and formed his first band.
 
At 17 a popular rock band Forte recruited Vlad as a lead guitarist. Soon after reaching several #1 hits in the charts, Vlad joined the legendary art rock band "Tea Fan Club" (TFC). While in TFC Vlad was hired as a studio guitarist by Leo Studios in Lviv, Molem in Krakow, M-Studios MTV in Berlin and worked with a varieties of well known popular and classical artists as well as writing music for major national shows and soundtrack for motion pictures. TFC joined the presidential campaign endorsing democratic candidate for Ukraine's independence and had been added to "People of the Year" national pride list.
 
During that time Vlad also helped newcomers with their music career, among them is a Eurovision winner ukrainian singer Ruslana.   After Ukraine's independence, Vlad and a former leader of a well-known Opalni Prinz, Yurok Shtyn, formed a new band, Loony Pelen. #1 hits and #1 album in the national charts quickly followed. Having established himself as a premier guitarist in Ukraine, Vlad has garnered numerous awards and earned endless accolades in his country. Berklee College Of Music welcomed Vlad to the United States with the highest scholarship awarded. In the past ten years, Vlad has stepped into the solo spotlight in the USA and around the world and released his CD Vladosphere.
 
In the Fall of 2009 History Channel aired a series "Nostradamus Effect: da Vinci's Armageddon in which Vlad played Leonardo da Vinci. Then, in 2013 he co-produced a popular TV music talent show "Boyuk Sehne" (Böyük Səhnə) that aired in Baku, Azerbaijan, where Vlad as Jack Spade was also one of the judges. Now, in 2014 Vlad formed a band "Jacks Last Dollar" and its new album "Part I" was released in May, giving us something completely different and wonderful. I think this gifted man has found himself by using a slide and experimenting with Bluegrass and Folk sounds.  
 
Tell me about your new project "Jacks Last Dollar".
 
Jacks Last Dollar – is a new project that I started in 2009… The music of course came first, the name later. As you know, my solo recordings were jazz and classical guitar, with hints of rock here and there… And that was predominantly what my audience knew about my music.
 
But in 2006, I experienced the loss of family members dearest to me…. that changed my perception. In the evenings, with a glass of wine, I took an acoustic guitar and started playing haunting melodies…. the first melody, what has becme on the album a song "Don't Let Me down"…
When I moved from San Francisco to LA, I felt like this is the sound is the closest to me… basically I wanted to play A capella Ukrainian folk tunes on the guitar…. Having a slide around, I played them with a slide… and it sounded like blues… thus I kept developing that sound.
 
In 2010 I released a demo version of a song "Silver Moon", that later became "Sister Moon", the production ideas were simple – create recording simple…. So, I had a guitar, slide… and a suitcase… I wore boots and stomped on the suitcase to create a pumping beat and then clapping my hands… – to create a motion… this created the sound of the album and the project.
 
I wanted to make the shortest distance between the soul of a slide guitar and the recording equipment… So, majority of recording of the guitar and my vocals were recorded straight into the laptop computer, with a built-in microphone… This also allowed me to travel… and record as soon as I had an inspiration.
One day I was at Steve Vai's birthday, and he gave me as a present (even though it was HIS birthday!) a comiplation of Smithsonian Blues and Folk collection… that inspired me in the way like the folk tunes of Ukraine when I was growing up… So, I just knew its in my roots… and after a research – it was… a lot of bluegrass influence and pentatonics come from my part of the world…
 
Before I decided to mix the album, I started playing shows around Los Angeles… to see the reaction of people… And it was great…. I remember one time I played at Bar Lubitsch in Hollywood… some people came to see the show, some hopping from a bar into the live room…. I do remember I started playing slide… in about a minute there was a complete silence… you could hear a needledrop in the audience… From that moment I knew the album speaks to the soul… I will never forget that.
Right now Part I (which is more upbeat and what what I consider as contemporary sound of folk and blues), has been released… I was surprised to see it was debuted at #14 on iTunes blues charts… not bad for an unknown project and zero advertisement…. Part II – a more soulful music is coming in July …
 
Jacks Last Dollar, the name was suggested by my friend Lesa Amoore – I thought was a perfectly fitting name for the project… rather than Vlad… I did invite guest singers, and I wanted to make sure they feel like part of a project, rather than my artist name… 
 
Your always evolving and recreating yourself.  Any feel for what might be next from you?
 
Yes, I do get bored easily if I play the same thing over and over… So, if I create a solo project , I always want to reinvent myself and the sound… Challenges – skipping the charades and facades and getting closer to the heart – is my direction… I guess thats why slide guitar resides…
I am already working on a new album… surprisingly a more heavy sounding albums, with guitar riffs, and interested turns and angles of it … Its definitely fun to play and listen… If the time permits I would like to release that this year as well..
But of course, my symphony is still in the makes… that has a lot of beautiful pieces… for strings, piano and even a choir ! – Quite an ambitious project…. but I just don't feel anything is too big, on the contrary – I want to climb that mountain… just my nature I guess… then have a look and see which other ones to climb.
 
Thank you very much, and folk music, in my own interpretation and compositions, were always at our family dinner table since the childhood… Its in the roots. They are important.
 
-Vlad
 
http://www.jackslastdollar.com/home.html
http://www.vladosphere.com/
Diana Olson – diolson05@yahoo.com