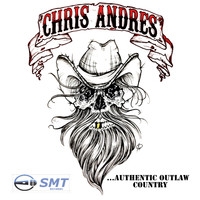 Americana artists often offer listeners something that is very genuine and can be awe-inspiring. British Columbia based singer / songwriter Chris Andres fits well into this category with his latest release entitled fittingly enough Authentic Outlaw Country. In his own words: The term "Outlaw" gets thrown around a lot in the music biz, but if there is an Outlaw movement, then Chris Andres has surely earned his place in this company. He started playing in bars at the age of fourteen, and started touring at the age of fifteen and by the time he was in his early twenties he was being courted by numerous record companies, but all the years of touring and hard living was starting to take its toll and Chris knew he had to make some changes if he was going to have any chance in this highly competitive industry. Since then Chris has developed his own voice and perspective on the way he puts his art out there, with influences like Johnny Cash, Townes Van Zandt, Bruce Springsteen just to name a few, Chris Andres keeps it real…and keeps it honest.
His rather simplistic, under bearing musical personality, infectious style, insurmountable touch and zest for "real life" topics make this EP an absolute pleasure to listen to on lazy days with nothing on the agenda, with no distractions. Track 1 "Raised In A Hotel" and Track 2: my favorite piece "Destiny" starts things off with an amazing blend Classic Folk, 70' Pop and invigorating Americana-Blues that's ideal but also boldly honest. This is especially true now that the summer is winding down and as the leaves are beginning to fall. Some songs have a sad but true overtone with a real ring of truth to them. Next up, "Wooden Overcoat" is a mostly blues-sadcore inspired song with true conviction about how our perceptions might change, as the lyrics teeter on brilliant. Slowing down the pace, "Best of Times" is another powerful ballad that stays strong with his striking vocals and conservative guitar playing. I especially like how many songs on this 5 track collection build and kind of tell a story. Lastly, "Dark Train" waves you in for a safe landing thus ending the EP. I especially liked the harmonizing melodies, memorable lyrics, and that glorious singer / songwriter persona that we can't get enough of. Musical comparables for me include Johnny Cash, Tim McGraw, Billy Currington and Woody Guthrie. Authentic Outlaw Country is also mixed with some blues-rock and pop.
Criticism: I noticed Andres has a full band on his site. He should release a record with slow stuff and full band material creating a more diversified record. With this comment he could put Saloon Jazz-Blues material on there as well – maybe a few upbeat songs. Most of his rhythm guitar playing follows the same rhythmic finger picking pattern. Andres should mix things up rhythmically with various timing signatures song to song.  
After listening to Authentic Outlaw Country by Chris Andres it's very clear that this guy's walks the walk and has lived the life in which he courageously sings about. Andres is an undiscovered talent from Canada that honestly went far beyond what I imagined.
FACEBOOK: https://www.facebook.com/pages/Chris-Andres-Authentic-Outlaw-Country/282539925242432
Final Rating 4.5/5
URL: http://www.chrisandresband.com/
Vincent Surber edited and approved by Janne Zawa
Review comments: jannezawa@gmail.com