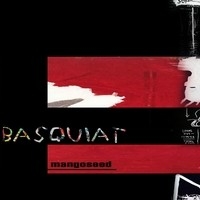 Mangoseed's debut album is a funk infused slice of quirky rock. Opening with 'Lioness', an energetic track which nods to Rage Against The Machine in terms of funk/rock fusion, while 'Careful' lays on the 2-step pretty thick at points, with a cracking snare that you'll just have to hear yourself to believe it.
 
Vocally, Mangoseed certainly displays variety, moving between a Mars Volta sound and classic Bob Marley tones.
Stream the album in full at Soundcloud:
https://soundcloud.com/mangoseed/sets/basquiat/s-G0zOD
 
'Devil In The Road' continues in the dub vein, with a echoey, snappy guitar that also has a wah-wah pedal and isn't afraid to use it, while 'The Soul Bird' heads in a totally different direction aesthetically, with dubstep throbs and female vocal samples that set up the scene for the next track, 'She Is All'.
 
"Brix-Tone"
https://www.youtube.com/watch?v=a2vEyQdrPRM
'Standing On High' is a particularly aggressive moment on the album, almost psychedelic at points, with a growling vocal that distorts beautifully at key moments. There are softer moments on the album too, with 'Rise and Shine' leaning towards a loungey feel that paints a picture of a caribbean cocktail bar.
 
'Thief Head' is particularly hectic, skittering in all kinds of directions and incorporating all the punk, funk, and ska elements that Mangoseed have showcased across Basquiat and deliver them all at once.
 
It's a reggae party album for today, blending rock and funk to create a passionate collection of inventive songs.
www.mangoseed.co.uk
 
By Chris Marsh