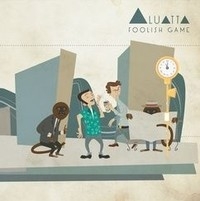 This CD "Foolish Game" by Italy's own Aluatta is sure to one day be remembered as one of the classic good timing Americana-Alt Rock CD's of recent time – and they're not even from the states. It's pure rocking Americana magic the way it used to be, full of cautionary tales, and a passion for life and life on the road. All of this describes Aluatta to a "T". So who are these 4 anyway? Band consists of: Paolo Bertonazzi (Vocals, guitar0, Giovanni Calcagno (Bass), Nicolo Crosio (Lead Guitar) and Daniele Mezzeo (Drums). In my own words: Theya re a fast paced band  who draws on life experiences from both the interior and exterior vantage point. Their narrative lyrics and sincere performances offer an unobstructed view into the heart of an artist who embraces each moment.
"Foolish Game" finds these lads in comfortable middle ground between the more tender musings of "Good Idea" and the powerful rock of "Tighten Up". From track 1 "11AM" to the final moments of Track 10 "In My World" this latest 10 track release hits on all cylinders with a fun musical landscape full of power and happy go luck overtones. Some songs are about lost love no doubt while others are about life's sweet victory. One thing that impressed me the most about this album/band is the sheer impassioned Alt-Rock-folk vibe one gets. There's an Alternative Rock ambience that really sucks in the listener, but also hints of Acoustic-Rock-Pop. Make no bones about it – this band can play! The CD is professional grade any way you look at it – very professional sounding. The instrumentation and tones give you that genuine feel of good music and writing from a generation ago. It also has a solid feel reminiscent of Alternative Rock popular in the early nineties as well. Aluatta reminds me of Gig Blossoms, Jesse Malin, Justin Townes Earle, Wilco, Neal Casal, and Jason Isbell. Despite this I can also hear more modern day Sister Hazel, Semisonic, Better than Ezra and OMC. All members in his band are solid musically. Kudos goes out to the amazing playing – the proof is in the picking. I also always said you can sell what you don't truly believe, in this aspect Bertonazzi and the boys seal the deal and capture some Lighting in a Bottle via his amazing vocal touch that will ring true not only for older more experienced listeners but new ones as well.
My favorite tracks: Title Track, Relief, Good Idea .
Criticism: None
"Foolish Game" wraps up a well-rounded 10 track line-up that delivers an interesting cross section of classic Americana Alt-Rock, and Classic Rock. Once again – despite this it is accessible to modern day listeners as well. How is this possible? Only an experienced artist armed with an honest, genuine, sincere approach like Aluatta can pull it off. I know I said it before but this band from Italy is backed up by some solid players, with solid production instincts, a sincere writer's touch and an acoustic guitar he proves where there is smoke there is fire. Need I say more?
Purchase Link: https://itunes.apple.com/us/artist/aluatta/id379591607
URL: http://www.aluatta.com/home
Score: 3.5/5 Stars
Posted by Trudy Harman edited by Janne Zawa
Comments: jannezawa@gmail.coml