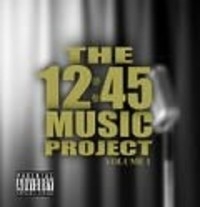 In our modern age of Rap synths and autotune it can be difficult to find the top seeds among the harvest. What makes masters like Snoop Dog, Nelly, Eminem so sought after? Sure they sound good, they look good, the feel good. But above that they got something else. They got what many in the industry call X-Factor. So what is X-Factor anyway? It's just something deep within their spirit that breaks the mold when compared to other artists. They stand out in a good way and this transfers well into the hearts and minds of music fans we listening to their music. Where am I going all with this? The 12:45 Music Project – (Volume I) featuring musical mastermind/Producer Christopher Bell and all these rappers on the CD have X-Factor. Now with his very first CD release under this moniker – out on the streets and beyond Bell through his media company is set to promote it with across the US. This is a diverse collection of songs. The fusion of genres and his unique sound have branded this project as a sort of a crossover CD gaining a lot of fans outside of the Hip Hop world. As for the rappers he brings to the table – everything done throughout their lives have better prepared them for the stars they believe themselves to be, just as long as they continues to work hard and stay true to themselves as recording artists and persons – at least that's the vibe I get.
After I listened to the 2 opening tracks "Nobody" feat. (Ace of Spaces and Rook Nass) and "Burn" I was sold right away on the album. This true to form rap anthem follows the script well on this CD but the overall vibe is ironically positive and deeply spiritual and meaningful in nature. With the impressively Third track "Monopoly" and invigorating "Face Melt 3.0" the CD keeps it real with this tasty groove that decrees power and ego in a confidence over the masses. What's more the closer "This Groove" offers instrumentally rich set with dark messages and thick as a brick low end punch. Don't get me wrong this isn't an overwhelmingly negative CD by any means. It's got its share of rough and tumble subject matter for sure but other rocked out pieces like "What Can You Do" and striking "Just How It Goes" will calm the tormented soul.
The 12:45 Music Project – (Volume I) demonstrate a deeper side and a sense of hope evident through a transparent exploration of yearning and feeling positive about the unknown. All brought to life with hauntingly detailed synth layers, steady rhythmic pulsation and addictive vocal melodies from all rappers involved – (Ace of Spades, Rook Nass, Soul Unseen, Deuce, Jillvontae.)
My favorite track "Burn" stands out as the track that mostly showcases the remarkably crafted and thoughtful nature of Bell as producer. On all tracks expect a more versatile vocal range. I can tell they are all good singers regardless of the rap style. All things considered, this is a unique and fascinating CD from a unique and fascinating artist that is the real deal. It's nice to know within the ranks if millions of independent artists some are capable of delivering something special that sticks true within their own style and technique. All the while touching an occasionally painfully honest or beautifully simple songs on an CD called The 12:45 Music Project – (Volume I).
Score 3.5/5 Stars
R.J. Philips approved by Heather Savage
Review comments: heathersavage5@gmail.com