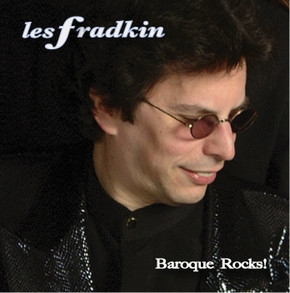 Reinventing the wheel of sorts, Les Fradkin has done it again!  Les recently won "Best Classical Recording" at the 2014 Indie Music Channel Awards for the single "Canon In D"!  What makes this award even more impressive is the fact that the song was released five years ago as part of the 'Baroque Rocks!' album.  Proving once again that classical & Baroque style music is standing the test of time.
Fradkin is a classically-trained artist/musician along with being one hell of a rock guitarist that can play with the best of them.  He is also an accomplished composer & producer who knows what sounds good and what doesn't.  His winning composition "Canon In D" hits all the right notes and definitely feels right.  Paying homage to German Baroque composer/organist/teacher Johann Pachelbel who wrote "Canon In D", Les has given a new zest of life to the original masterpiece.  Using his one-of-a-kind Starr Labs Ztar, Les is able to produce an array of amazing sounds from just one unique instrument.  Blending rock with classical/Baroque on Fradkin's version of "Canon In D", the mighty Ztar is able to make it all sound so electronic & New Age while still keepin' it classy.  Fradkin's innovative approach did not take away from the original score at all because Les was able to have the New World & Old World come together as One.  With two worlds colliding, Les is able to combine it all perfectly for the listeners of Today.  Coined as a "virtuoso" MIDI guitarist, Les is putting a modern & inventive twist on Pachelbel's classic piece.
It comes as no surprise to me that Les Fradkin has been called a "Futuristic Symphonic One Man Orchestra" because with his trusty Ztar at his side the King of MIDI guitars can do no wrong!  He aims…he sets…he fires a direct hit with "Canon In D"!  "Canon In D" may have made it to #9 on the Japanese charts upon its release BUT five years later the single stands alone as "Best Classical Recording"!  It's also worth mentioning that Les had a total of five nominations for this year's Indie Music Channel Awards and many more to come I think. 
Making supersonic waves with his technologically advanced Ztar, Les Fradkin will continue to blow minds & ears everywhere!  And don't forget to watch the official video for "Canon In D" right here, right now! http://www.youtube.com/watch?v=mdSLLx1Bw0U
By Jimmy Rae (jrae2@att.net)