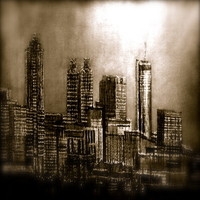 With its tongue-in-cheek reference to Miles Davis' seminal Birth Of The Cool, Jared Wesley's mixtape The Reinvention Of 'The Cool' stands in an entirely arena with his old school hiphop.
With the intro out of the way, 'Happy Belated' immediately establishes Jared Wesley's style as vintage sounding, with a loose flow and relentless rhymes. Repetition is the key, throwing out the word 'spit' like a series of bullets, with a seventies flute trilling along in the background, blended with police sirens and city street sounds.
'Rippin N Rollin' continues with the seventies blaxploitation vibe, rolling out the syllables at an incredible pace that shows off Jared Wesley's skills and is peppered with some effective, fun scratching.
Listen:
http://www.datpiff.com/Jared-Wesley-The-Reinvention-of-The-Cool-Vol-2-mixtape.595221.html
https://soundcloud.com/thejaredwesley/sets/the-reinvention-of-the-cool-1
'Thr33 Minds' takes the foot off the gas a little, cruising along with more smooth flow and instrumentation that channels the aforementioned Miles Davis and creates a hazy, smoky feel.
'SpppiZit (aLl I DO)' is phenomenal fun, sounding like a mashup of early Bran Van 3000 and Eminem's 'My Name Is'
"Rippin N' Rollin" – http://www.youtube.com/watch?v=Cqpv-OTYTPA
Jared Wesley's The Reinvention Of The Cool is a fresh mixtape taking some unusual samples and using interesting production methods – the Bernard Hermann 'Psycho' theme on 'Get 'Em Nigga' is a real treat for film and hiphop fans alike, so check it out!
By Chris Marsh