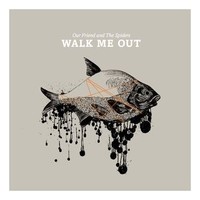 "Your Ghost" is the first song on the album. It has nice, strong vocals and I really like the instrumentals. This seems like a fun band at first listen. I really like this song and how well it seems to be put together.
Next comes "Wait." It's got really good music and is a lot of fun to listen to, as well. I enjoy the drums in this song. The lyrics, as well, are pretty good. I like music that has depth and they really give you that on their album.
With "Escape" they show you that, once again, they do not let you down with their instrumentals. They are very good. Still, I do have a bit of trouble understanding the vocals on some of the songs. Still, the lead singer does have a very nice strong voice.
I really like the beginning of "Useless Word," as it is good rock/alternative music. The name of the song says it all because there is no need for any vocals when you have great instrumentals. It is a really, really good song.
By the time we get to "Black Shadow," I definitely can hear the trend of them starting their music off strong and fun, keeping it very consistent with how good they are. They never disappoint at all. I really like the lyrics to this song. It's definitely something I would call a summer jam. I find the guitar in this song to be very, very good!
I like how track nine "Giant Hand" flows right into "Giant End" with an awesome instrumental ending to a really good and fun album. This track has a lot of originality to it. Over all this CD was very good. I would defiantly like hearing more from this band.
Overall rating I would give them a 5/5  – it's a very good album!
by Laura Turner