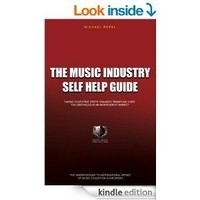 The Music Industry Self Help Guide—Taking Your First Steps Towards Trampling Over The Obstacles In An Independent Market.
Mike Repel, who is a musician and independent record label owner, has finally done it with his new book!  By providing an easy-to-read blueprint for emerging artists, "The Music Industry Self Help Guide" will serve as a very useful tool.  With the DIY (Do It Yourself) attitude, Repel will show you the way toward achieving your goals within the almighty music industry.
The language in this book is laid out in a very direct & honest fashion where the reader will be able to follow along easily.  Targeting indie and underground artists & bands, this book will be their best friend.  Overcoming obstacles and understanding how the business truly works is something that Mike Repel wants to get across to up-and-coming acts.  The chapters include: "Be Prepared To Do It Yourself", "Bringing The Goods", "The Lineup", "Developing Your Brand", "Your Support Structure", "A Solid Online Presence", "Merchandising", "Album Artwork", "Your First Release", "Copyright Information", "Publishing, Performance Rights & Royalty Collection Agencies", "The Press Kit", "The Interview", "Marketing And Promoting Yourself", "Working With Labels And Management", "The Bad Promoter", "Go Book Yourself", "Performance Riders And Guarantees", "DIY Touring", "Problems With Live Sound", "Violence At The Venue", "Live Performer Etiquette", "Haters", "Bands, Chemical Dependency & Drugs", "Rap And Mixtapes", "Revenue Recap" and "What The Future Holds".  Everything you need to know if you want to have a successful music career is all right at your fingertips.  And the beauty of this book is that Mike speaks from experience as a hard-working musician & label owner who followed all of these steps himself.  There is no BS here and no extra filler and no one trying to swindle you out of 15 or 20 bucks.  "The Music Industry Self Help Guide" is filled with 100 % honesty and informative tips that can help any artist or band just starting up.
If you are an aspiring musician or a band with high hopes, then this book is for you!  One will get invaluable information from a respected & reputable source.  With a common sense approach and a sometimes harsh dose of reality thrown in your face, Mike Repel does not hold back as he dishes out the goods.  Mike Repel just may hold the key to your future of becoming a dominant force in the Independent world.  So…the choice is yours!  You can purchase a copy of "The Music Industry Self Help Guide" at many locations including: http://themusicindustryselfhelpguide.com
Amazon Kindle: http://www.amazon.com/dp/B00JBNP656
Apple iBooks: https://itunes.apple.com/us/book/music-industry-self-help-guide/id850533215?mt=11
Googlebooks: https://play.google.com/store/books/details/Michael_Repel_THE_MUSIC_INDUSTRY_SELF_HELP_GUIDE?id=Op0zAwAAQBAJ
Kobo books: http://store.kobobooks.com/en-US/ebook/the-music-industry-self-help-guide
Barnes and Noble Nook: http://www.barnesandnoble.com/w/the-music-industry-self-help-guide-michael-repel/1119057631?ean=9780991515516
 
Get Yours Today!
http://themusicindustryselfhelpguide.com 
4 Skopes
By Jimmy Rae (jrae2@att.net)