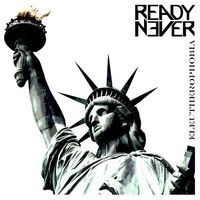 Ready Never's debut CD, Eleutherophobia is a dance electro pop compilation in a nice neat party package. They are out of L.A. and sing about the narcissistic society we are all living. They have a serious message conveyed in a positive, up beat way. Let your hands fly in the air and dance and sweat until you drop.
This is a great start to a prosperous career for, Ready Never. It is not inundated with bass and boom it is well thought out Pop music. It puts you in the mood for a night out on the town after a long work week. Let your hair down and escape into, Eleutherophobia.
The new album is streaming in full at Soundcloud:
https://soundcloud.com/readynevercloud/sets/eleutherophobia
This particular genre has some hard core followers looking for a good time and this duo is here to please and bringing full on satisfaction. They have solid vocals that weave in and out of the melodic synthesizers with hooky lyrics that dictate a good time; its unavoidable.  They kick in some Latino Reggaeton in the song, Me Myself and I, my personal favorite, maybe it's the Latina in me or maybe it is simply well done, bottom line.
Check out the original music video for "Take That Pill" here:
http://www.youtube.com/watch?v=V9mDdNDbIZ8
This CD is a portal into another world full of fantasy and fun. It is not possible to live in this world without a good vibe and smiles. Ready Never is bringing dance perfection with, Eleutherophobia. This is an excellent start to longevity. They do what they do and they are doing it at the top of their game. No matter what day of the week, this is a Friday night escape to celebrate life, CD. Time to let it all go and set yourself free with, Ready Never.
I rate this 4 out of 5
Rebecca Hosking – hoskingrebecca@gmail.com