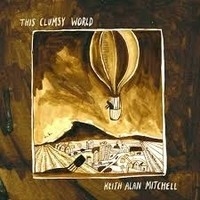 'Swaying' sees Keith Alan Mitchell's vocal sailing close to the tones of Ben Folds, all the more supported by the powerful, emotional piano performance. It's something of a lighter-waver, with its gentle rhythm and creaking bass notes, and given some glue from Kathy Kennedy's backing vocals.
'You Just Disappear' showcases some classic acoustic rock, with a plodding bass part and a tambourine that really pulls things along, while 'Crossed That Line' is a wistful, dreamy track filled with melancholy and yearning. Its ever so soft organ sits unobtrusively in the back of the mix, just adding the slightest hint of a country vibe.
'Tavern Angeline' is a real rocker, the perfect pub rock tune with just the right balance of americana groove, vocal harmonies, and fun percussion, while 'The Feud' turns things darker in tone with a snarling guitar part and a vocal filled with attitude.
Stream the album on Soundcloud:
https://soundcloud.com/keithalanmitchell/sets/this-clumsy-world
This Clumsy World manages to be incredibly varied in its style and tone, considering the limited range of instrumentation. If anything, the more acoustic approach helps the album to have a sense of coherence and consistency throughout, while always offering real creativity within those boundaries, such as the delicate pluckings on 'Next Time' and off-beat hooks on 'The Low Way'.
Penultimate track 'Diamond Blues' is a speedy, shuffling square dance which draws on the classic sounds of Paul Simon and Reckoning era R.E.M., leading on to This Clumsy World's closing track, 'Our Eyes'. As a concluding track, it's gentle, thoughtful, and totally stripped back, with simply Keith Alan Mitchell's voice and an acoustic guitar, it's the perfect end to a creative collection of americana-fused folk rock.
http://www.keithalanmitchell.com
By Chris Marsh