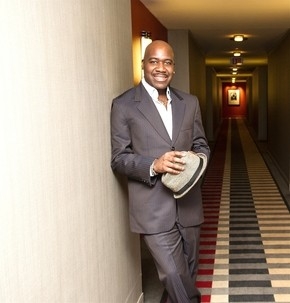 If you need to escape from all your worries and stresses than I strongly suggest that you play Will Downing's Euphoria. When I first was involved in the interview I covered it from the natural man point of view and not the project. Now I'm truly getting lost in the cover songs of Euphoria. I can see why his friend celebrity strategist and radio personality Dyana Williams said that the music put her in a euphoric state of being. Each cover song captures its own musical essence of hope, peace, love, travel and inspiration.  There are so many favorites that I can't decide and I think that is what every recording artist strives for when making an album. That being releasing every single that can stand alone and make an impact. The album consists of 8 covers with real live instruments that you can hear on every track. He has involved some of the most profound musicians and instruments such as Japanese strings, the koto, trombone, bass, a brass ensemble and much more. In addition he included leading saxophonists Gerald Albright and Najee to name a few.
"Meu Bem Querer" – http://k007.kiwi6.com/hotlink/rjprfb6s9c/Will_Downing_Meu_Bem_Querer.mp3
If you need to listen to some real timeless music and get lost in a good way than Euphoria is a CD that is classy, sensual and soothing. From track #1 with Teddy Pendergrass's Turn off the Lights Downing makes it his own with jazzy horns and harmonies.  #3 You Bring Me Flowers is a favorite because here he takes a risk and does something challenging by singing Blues for the very first time and capturing that essence. On this track we can hear and enjoy the creative music arrangements with trombonist Wycliffe Gordon and brass ensemble by Chop Horns.  Now #4 If I Were a Magician by Lou Rawls was a surprise that was kept light but meaningful with strings and sweet piano ripples as a backdrop.
The most impactful track for me was #5 Mem Beu Querer where Downing sings so lovely in Portuguese. This song was a theme song for a popular Soap Opera in Brazil. He always said that if he ever did a cover CD than he wanted this tune to be on it. The track is so tangible with its guitar chords and subliminal ad libes that if you close your eyes you can disappear and feel the sea breezes of Brazil.
"Heaven In Your Eyes" – http://k007.kiwi6.com/hotlink/iitn0gb1oo/Will_Downing_Heaven_In_Your_Eyes.mp3
#7  Heaven in Your Eyes sums it all up with its melodic rhythms depicting sensual love with bass and slight percussion. It makes you want to just start snapping your fingers because you can feel that vibe throughout your very being. It's a slow grooving song where nothing needs to be said.  You never want this concert as I refer to it as, to end because I feel so complete with this musical plate that has been placed before me. The closing number is Hall and Oates #8  She's Gone and as I listen to this rendition I begin to reminisce and I get lost in time and you can't help but to break out in song!
Overall this cover CD isn't just any cover album for it has been handcrafted with artistic musical designs to create just a piece of a time capsule. There is the hope that Euphoria is a stepping stone to getting back to real music.  Getting lost in Will Downing's Euphoria is worth the experience! It is available at Best Buys stores and online at www.amazon.com and www.itunes.com For additional information on Will Downing and his various projects including his radio show explore his site.
by LA Virgil-Maldonado, MBA – lavirgil2010@gmail.com